Red Sea Glass Find
by Elyssa
(Toronto, Ontario, Canada)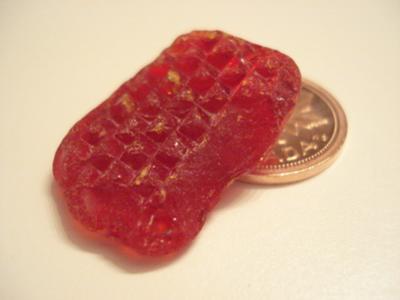 Red Sea Glass Find
Hi,

I found a chevron patterned piece of red sea glass with gold flecks at Cherry Beach in Toronto - Lake Ontario.

I am curious to know any history on this piece and how rare/valuable it is.

Thank you,

Elyssa

Map of Cherry Beach, Toronto


Added Info:
Red beach glass is a great find anywhere - the thrill of a lifetime, perhaps. To find a nice textured piece of this size is extra special!
Lying towards the southern end of huge Lake Ontario, Toronto's waterfront has undergone many changes over the last two centuries. With a vast area of water, Lake Ontario has mamy beaches that are good for sea glass, and beaches near Toronto can be very good for beach glass.
When I looked at the apparent location of Cherry Beach near North Shore Park in Toronto, I was surprised to see a somewhat protected beach where one wouldn't usually expect to find any wave action.
Although there is a decent fetch, or stretch of open water to the south, the protection from the larger part of the lake to the northeast would prevent much wave action from forming.
However, Cherry Beach may have been more exposed in the past, allowing more tumbling action. This piece, although not Jewelry A quality, shows exposure frosting and some rounding from a modest amount of tumbling.
No matter how it got this way or where it came from, this is a very special find. Congrats!
David Schneider (Main Errand Boy - Odyssey Sea Glass)
---
See also: