Scarborough and Redcliffe, Queensland
by Aannsha Jones
(Queensland, Australia)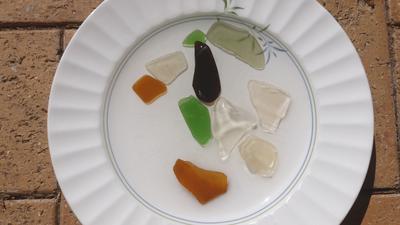 Collection of Redcliffe/Scarborough glass
~ sea glass beach report submitted by Aannsha Jones, Queensland, Australia
Scarborough and Redcliffe, Queensland
25 February 2017, end of summer
Sunny, not too hot or humid. Light breeze
I arrived as the tide was receding so unfortunately didn't get the opportunity for reaching the great deposits which I could see were about a meter away, still covered by the sea!
However, I still found a nice collection of white, green (two shades) and brown glass.
One piece of brown glass is very dark, almost black and when held with the light behind, shows it to be brown with dark brown inclusions.
If anyone knows what this could be from, I'd appreciate knowing.
I will definitely return to these beaches again when I know the tide is low.
~ sea glass beach report submitted by

Aannsha Jones

, Queensland, Australia

NOTE ~ for tides, David and Lin recommend the site http://www.tides4fishing.com/
See more: