Small Beach Pottery Prince Edward Island?
by Eric
(New Brunswick, Canada)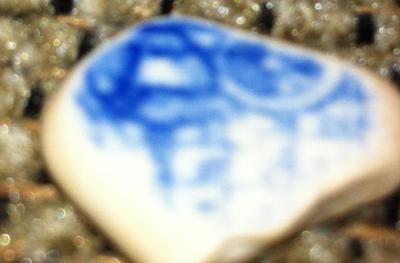 Small piece of beach pottery
~ question submitted by Eric from New Brunswick, Canada


Hi, found this small piece on the South East coast of Prince Edward Island, NB, Canada.
Any thoughts?
Small blue and white piece of glass




Seems like part of a plate or cup.
~ question submitted by Eric



Do you have a piece of beach pottery or sea glass that you are trying to identify? Check out the following:

Collectors Encyclopedia Of Milk Glass Identification/Values
Bottles & jars, bowls, candlesticks, kitchenware, lamps, plates, shakers, toothpick holders, trays, vases, and more. "I have been buying odd pieces of milk glass and was looking for some kind of reference book so that I would know what I was looking at and looking for. WOW! This book gave me exactly what I was looking for."

~ Rebecca M. Makas



Join in and write your own page! It's easy to do. How? Simply click here to return to Identify Your Sea Glass.
---