Tolchester Beach, Maryland, Sea Glass
by Carol Cook
(Damascus, Maryland, East Coast United States)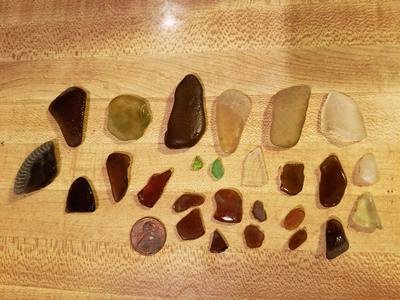 Tolchester Beach Glass
Home > East Coast > Tolchester Beach, Maryland

Tolchester Beach, Maryland, USA

July 2, 2017
My first time looking for sea glass outside the Caribbean - wasn't sure what I'd find.
I dug in, along, and under large pieces of rock and broken concrete to find these glass pieces as well as some great stones.
I entered at the public area past the "Road Closed" sign and walked/hopped between pieces of the broken concrete boat ramp.
Please be careful, there are many loose and wobbly pieces.
You will find sea glass there but you must really dig around through the stones, sand and dirt. There aren't many places to perch yourself, but it can be done.
I was happy to find the larger pieces and thrilled to uncover some orange/amber pieces.
~ sea glass beach report

Carol Cook

, Damascus, MD USA
At Amazon.com:
Scroll down for comments...