11-7-14 Huanchaco Beach Peru Sea Glass
by David and Lin Schneider
(Huanchaco Beach, Peru, South America)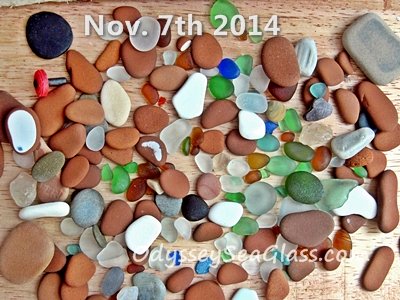 Total catch for Nov 7th
~ sea glass photos submitted by Lin and David at Odyssey Sea Glass
in Huanchaco, Peru

Here is what we found on the 7th of November...
This is fairly typical of a good day here in Huanchaco Beach Peru.

The beach is not loaded with beach glass like a "glass beach" would be, but very nice sea glass indeed is nearly always there to be found.

Rare colors like red, yellow and orange are rare here like other places but teal and blues do show up pretty regularly along with nice greens etc.
~ sea glass photos submitted by

Lin and David

at Odyssey Sea Glass
***z-odyssey-C2-end-of-content-ads.shtml***
***z-odyssey-C2-end-of-content.shtml***