2014, July 22nd - Huanchaco, Peru, Sea Glass
by David & Lin Schneider
(Huanchaco, Peru, South America)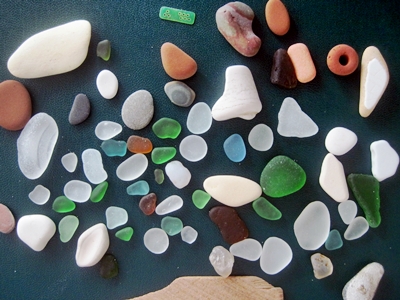 2014 - 7 - 22 Huanchaco Sea Glass
~ beach glass catch photos submitted by David and Lin

Sea Glass from Huanchaco, Peru
The glass we find is nearly all (estimate around 9 out of 10 pieces) jewelry grade as seen in this photo.

That's mostly due to the consistent good-sized waves day after day and the mix of rocks and sand on this beach.

There are lots of tile pieces, mostly brown with a white glaze, that are really nice. Also, tile of other colors, well-worn and tumbled.

Shells, on the other hand, are hard to find here, at least intact. There are lots of pieces and also small mussel-type shells but none of the kind found further north where we used to live.

There is also driftwood. But since there are few forests anywhere near the coast, much of the driftwood is bits and pieces of smaller stuff and old boards, etc.

We also find quite a bit of trashed wood flooring parquet, which does make very nice beach-type driftwood; however, much of that parquet has a tar-like substance on the back I guess for gluing it down.

~ beach glass catch photos submitted by

David and Lin
***z-odyssey-C2-end-of-content-ads.shtml***
***z-odyssey-C2-end-of-content.shtml***