Any idea about this logo? Found in South Korea
by Larry T.
(Jeju City, Jeju-do South Korea)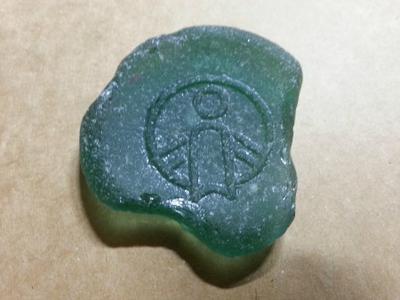 Name that Logo! Interesting find.
This shard was found on a beach on Jeju Island, South Korea.

The outer dimensions are 2 1/8" wide and 2 1/4" long.

Dimensions of the circle are 1 1/8" from the outside of the circle to the outside across the circle.

It looks and feels like a bottom of a bottle and is an aqua color when held up to light. It is heavily frosted and the sides are well rounded.

Any info on this would be greatly appreciated. I just started collecting sea glass a few weeks ago.


Korea: As Seen by Magnum Photographers


The beautiful landscape and day-to-day details of life in South Korea are depicted here in images taken by the photographers of Magnum—the famed cooperative whose members are among the greatest photographers of our time.

"Of the dozens of photo books of countries that I have this is the finest ever. I have travelled extensively in Korea and have lived there. This book is true to the country and the people. It truly is a great work of art and terrific value."

~ R. Whelan
Join in and write your own page! It's easy to do. How? Simply click here to return to Identify Your Sea Glass.
---