Castellammare Di Stabia Seafront Beach
by Jade
(Castellammare di Stabia, Napoli, Italia)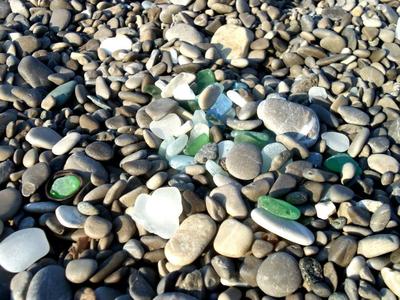 Look how easy it is to find seaglass here!
~ Sea Glass Beach Report submitted by Jade - Castellammare di Stabia, Napoli, Italia


Location:
Lo Castellammare Di Stabia seafront in Castellammare Di Stabia, Napoli (Naples), Italy

Report:
There are thousands of pieces on the beaches along Castellammare's sea front, as a result of an unfortunately huge amount of rubbish.

Lots of unusual colours that are hard to find in other places - turquoise, blue, dark slate grey, yellow, pink, even purple!

There is also a lot of beach pottery and other seaworn treasure!

Rate the beach:
--- Excellent - 10+ pieces of jewelry grade sea glass found per hour.

Where to look:
From the promenade, walk in the direction of Mt Vesuvius for about 20 minutes along the pavement until you see a pizzeria/trattoria.

Between the restaurant and the next building (a design company) is a short road that goes straight to the beach.

Parking is a block or so before this alley.

Map of area:
View Larger Map


Where to stay in Castellamare, Italy:
More about sea glass in Italy:


Where To Find Sea Glass?
Positano, Italy - Rated: Fair (3-5 jewelry grade pieces found per hour) Added by: ... Scalea, Italy (Calabria)- Rated: Good (6-15 jewelry grade pcs per hour) ...



Sea glass from Italy
A couple of weeks ago, Lin had a customer trade some sea glass from Italy in exchange for making her a pendant out of one of her pieces. AS you can see in the photo, it is...