Fort Flagler, Port Townsend, WA - Sea Glass Report
by Amanda
(Breinigsville, PA)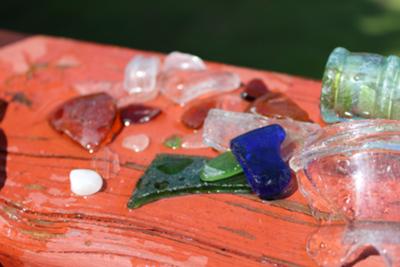 This is the sea glass we found!
~ submitted by Amanda in Breinigsville, PA

Fort Flagler Beach, Port Townsend
Port Townsend
Washington State

My family took a trip to Washington state and during a visit to LaPush Beach we had been told, by some fellow vacationers to try Fort Flagler in Port Townsend.

We found several small pieces of sea glass but we found a ton of turn of the century dishware.

We were told they would wash their dishes in the water and you could find various pieces and they were right.

We found a ton of thick, white, porcelain peices with various designs. It was a wonderful find!

We passed the fort and parked down by the shore. No one down there and we never saw another soul.

Fair 5 to 9 pieces of Sea Glass*

Excellent for th 10+ pieces of turn-of-the-century dishware

by Amanda





Thanks to everyone for submitting sea glass reports.

OdysseySeaGlass appreciates this and all reports we receive.

However, when evaluating a report, use good judgment.

Specific Notes About This Beach:

Beach was not given an accurate rating (did not state number of jewelry-grade pieces found per hour. There does not appear to be any jewelry-grade pieces in the photos).
We (Lin and David here at OdysseySeaGlass) have checked out this beach and found no jewelry-grade sea glass. It does not receive enough wave action.
It may be possible to find jewelry-grade glass there but not likely

David and Lin @ OdysseySeaGlass
For more reports onWashington State beaches, see:


Ediz Hook WA
Beautiful day in Port Angles. My kids loved the south side of the hook with the crabs and craft quality glass in abundance. My wife and I loved the rocky.

Join in and write your own page! It's easy to do. How? Simply click here to return to Beach Report and Rating.
---