Fort Bragg Glass Beach
by David (editor)
(Bow WA)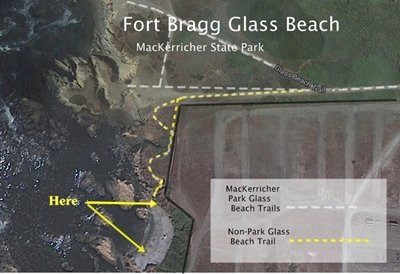 Use this map to leave MacKerricher Park and find lots of sea glass to take home.
Fort Bragg Glass Beach, California Sea Glass
Have you heard about Fort Bragg Glass Beach? Where is it? Can anyone collect sea glass there? Is there still beach glass at Fort Bragg?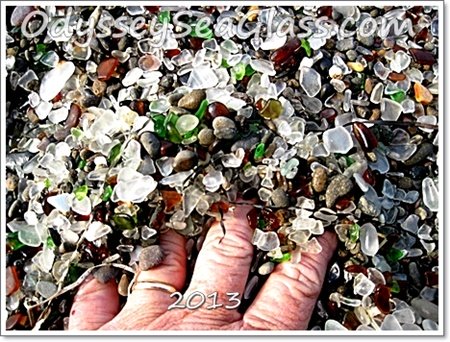 What is Fort Bragg, Anyway?
Fort Bragg is a city on the coast of Mendocino County, California. It is north of San Francisco along the Pacific Coast Highway, which runs from near Tijuana, Mexico all the way up the coast of California. -
Check out Fort Bragg hotels recommended by travelers
.
Fort Bragg was a fort for many years stemming from way back in the history of California. Now it's well known to many folks because the people in that town were so ecologically brown.
Well, you know what I mean, they weren't green, eco-conscious, environmentally aware.
They dumped their trash over the bluffs right onto the beach; a lot of it for many years.
Now, however, we like them a lot.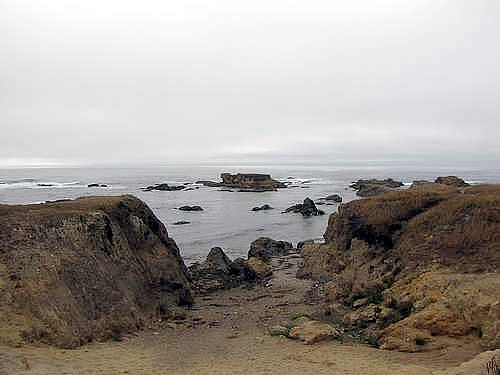 Fort Bragg Glass Beach July 2, 2009
Photo courtesy of
thorson_family
What Happened at Fort Bragg Beach Dumps?
The land was owned by the Union Lumber Company, and locals called it "The Dumps."
In 1967, green city leaders closed the area dumps and various cleanup programs were brought on through the years to fix the damage.

More eco-friendly methods of disposing their trash were adopted.

What happened at "The Dumps"?
For over 30 years, the pounding waves washed the trash up and down, back and forth, until it was worn down to nothing...except for the glass.
What was left of the discarded glass became small, smooth, colored pieces of "sea glass" that coat the beach today.
Well, there still is an amazing amount left, as we have personally seen on our trips to Fort Bragg.

Many of you have commented on Fort Bragg Glass Beach and sent in photos. It was also featured in a popular CNN article.

A few years ago, the main site was taken over by the California States Park Department as part of MacKerricher State Park (CA).
There were rumors that sea glass could no longer be taken away from the Park beaches.
On our first two trips to Glass Beach, Fort Bragg in 2009, we didn't see any signs prohibiting taking sea glass on any trails in MacKerricher Park. We took a select few pieces, perhaps a couple of handfuls.
On our third trip in 2013, there was
a warning sign posted by the Park. This time, however, we took the path to the south, which skirts the private property fence and takes you off of MacKerricher Park property.
Not only could we take some of the glass without feeling guilty, there was so much more of it than on the Park beaches.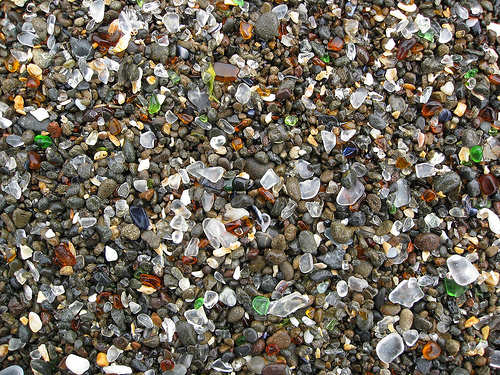 A typical bent-over view of glass shards at Glass Beach, Fort Bragg, July 5, 2009
Photo courtesy of
soupstance
Legal or Illegal or ... What ?
But is it illegal to take the glass? Or is it highly discouraged by the Parks Department?
Well, a while ago, on our Northern California list of beaches, we had added this blurb:

| | |
| --- | --- |
| "Fort Bragg, CA - Sea Glass Beach - (We previously posted that this beach now prohibited collecting sea glass. However, the only "official" State Park information we can find was a second-hand statement that it is "discouraged." One of our contributors also reported this information and we asked her to see if she could get a copy of exactly what IS the story. We are waiting for more definitive information, as we don't want to mislead anyone.) Also, there are beaches in the vicinity, that are really good and clearly open to collecting.." | Check out recommended Fort Bragg hotels. |
A lot of information has come in as a result of that initial statement.
In fact read all the following notes we have received from others (click or tap on the comments link below). They are listed with the newest comments first.
NEW recent update. This needs confirmation from someone living in Fort Bragg or a very recent visitor:

"December 26, 2016

Ft Bragg one Closed Beach due to stairs

In October we could climb down stairs that were really dangerously steep almost like a ladder. Loads of glass wide beach.

Now only the beach to the right at end of Elm is accessible. There is a solid high fence around the entire access to the glass beach when you go left along the cliffs at the end of Elm Street.

Glass...spark plugs...sinks embedded in beachfront tidepools...an interesting place."

If YOU have up-to-date information and/or would like to comment, please scroll down and enter the info.
The comments below show the latest comment first.
To get the most out of reading this very informative material, go to the comments links..