Glass Beach Fort Bragg California
by Anonymous
(Californai)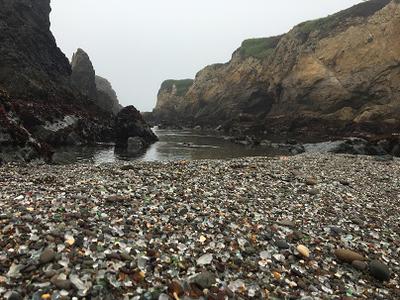 Glass Beach Site 1 March 2017
~ sea glass photos submitted by Anonymous
Fort Bragg Report

submitted March 22, 2017
Glass Beach (Site 1, 2 and 3)
Fort Bragg, California
The find: lot of white, brown, all greens (citron and olive too), well frosted and jewelry quality. A few aqua, tiny sapphires, pink. We found a tide pool of gold/yellow/orange at low tide. No reds. No marbles. Still investigating what that was about. In the photo, the piles are displayed by the beach. The coolest thing we found were multiple pieces of pottery and a little fire glass. Site 3 at the top, then Site 2. Site one is the biggest pile in the foreground of the pic.
How to get there: We intended to take a kayak to get to Site 1, but didn't end up needing it. There is a newly paved path that goes along the top of the bluff, but getting down to the beaches is a bit treacherous. I was fortunate that a fellow sea glass hunter helped me down to Site #1, as I probably couldn't have gotten there by myself. Bluffs are dangerous! Be careful and bring a buddy!!!
Park in the State Park parking lot off Elm. Then walk toward the water. It will dead end near Site 2 and 3. Turn SOUTH, aka left, and walk a couple of blocks distance, past the bench and sign to official Glass Beach (stairs are currently washed out) and past the end of the chain link fence. Keep going! Site 1 is unmarked, but you can see it from the top of the cliff. You can navigate down the cliff, but it is dangerous.
Tips: Highly suggest stopping at the Captain's Sea Glass Museum before going. He has a map there that will help you and if you want to spend the $, he has a coffee table book called Beaches of Glass that has a very detailed description of how to get to Site 1, although you won't need the kayak if you can navigate the bluff.
Plan your trip for low tide because there are legalities here. One of the beaches in the MacKerricher State Park, while the other two are in the City boundaries (FINES for each!). Make sure that you go at low tide, and take from below the water mark, so the government entities can't fine you (out of their jurisdiction).
For map showing the location and trails to these beaches,
click or tap here - see our page Fort Bragg Sea Glass Beach details.


~ sea glass photos submitted by Anonymous