Home - Sea Glass Crafts -How to Drill Sea Glass 

How to Drill Glass - Tips and Recommendations
Drilling Holes in Glass with Glass Drill Bit
Do you wonder about drilling glass, including sea glass? 
Here are positive comments, tips, and suggestions gathered from our readers over the years on how to drill glass.
Questions, Tips, Comments, and Answers From Our Viewers
How to Drill Glass with Glass Drill Bits
Have you wondered whether you have the ability to drill holes in sea glass without seriously injuring yourself or others?
Have you visualized glass shards all over the floor and yourself reduced to tears?
Don't give up before you try it! You CAN learn how to drill glass.

From what we have read and reviewed from you, our readers, learning how to drill sea glass was not that hard.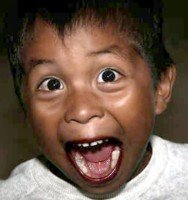 How to Drill Glass?
Who... me? Aaaah! ~photo courtesy of Josh Giovo
Many had questions about what types of drill and bits to use.

They all found that drilling sea glass does not require a "Glass Drillers Degree" or any special arts/crafts genius in order to produce great results.
You'll find the following questions, tips, and comments invaluable:
(This is a partial compilation of pages talking about how to drill glass for sea glass projects. For the complete listing of pages, use the Search function box in the right column and enter "drill" or "drilling.")
---
Who needs an expensive machine for drilling holes in sea glass!
How to Drill Glass

Glass Drill Bit for Drilling Holes in Glass

by Toshi Kanno
(El Granada CA)
Glass pieces with holes and the drill bit for glass and tile .
In her original post, Toshi talks ahout looking for a drill and bit. She ends up happy with a regular electric handheld drill and a bit for tile and glass from the hardware store.
For her full comment, see
Toshi's original report.
---
How to Drill Glass - Comments for
Who needs an expensive machine for drilling holes in sea glass!
Click here to add your own comments on how to drill glass.

---
Toshi, thank you for the tips on saving money on the drill!
As you state, a regular electric handheld drill will work for
drilling sea glass
.
With one of those electric drills you already have or can pick up at a garage sale plus a diamond-tipped glass drill bit, you're set to go..
How to Drill Glass with Glass Drill Bit

Dremel drill with glass drill bit. Water covers glass.
Most artists end up using a smaller, lightweight drill, usually a Dremel brand drill or a similar one as seen in the photo.
This is because it is much lighter and easier to hold than a household drill, so over time, you avoid wrist fatigue.
You also don't need high speeds for drilling glass. A lower speed is better. Most
Dremel-type drills
have dual or variable speeds.

CAUTION: Always drill with the glass completely submerged in water.

The glass dust from the drilling process is very bad for you to breathe in, so the water keeps it from floating around in the air.


The water also helps keep the drill bit cool.
David Schneider
(assistant editor and coffee server)
---
---
---
Good drill bit for drilling into small pieces of sea glass?
by Michael
(Maui)
I need to drill medium to small pieces of sea glass and don't know what drill or bits it is best to use.
Can someone help?
How to Drill Glass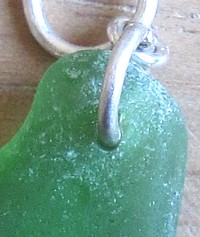 Closeup of hole and wire

Drilled Sea Glass Mobile
by Diane
(Hobe Sound, Florida)
Drilling Sea Glass

Drilled with Glass Drill Bit
Sea glass mobile
Diane's drilled sea glass mobile got quite a few people excited about how to drill glass themselves. Her original post is found at
Sea Glass Mobile.
---
Drilled Sea Glass Menageries
by Ole
(Seattle)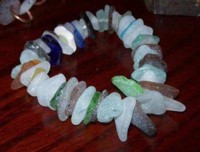 Sea Glass Bracelet with drilled "beads"
Ole submitted this drilled glass bracelet and stimulated a lot of interest and a few questions and responses.
Read his about his drilled sea glass for bracelets.
---
SEA GLASS TOOLS
For drilling and working with sea glass.
Check out our viewers' most popular tools by Dremel


---