New York, NY - Van Der Muffin's Jewels - Fine Artisan Sea Glass Jewelry
by Courtney Andrea Fox
(New York, NY, United States)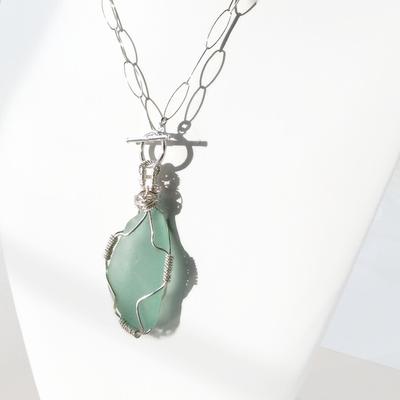 Aqua Sea Glass Toggle Necklace by Van Der Muffin's Jewels
Van Der Muffin's Jewels Fine Artisan Jewelry created by Courtney Andrea Fox
Southampton, NY and New York, NY, United States
Business Address: Van Der Muffin's Jewels, 300 East 84th St, Ste. 2C, New York, NY 10028
Contact: Courtney@vandermuffinsjewels.com 631.334.6461
website: www.vandermuffinsjewels.com
Van Der Muffin's Jewels Features:
Handmade, Fine Artisan Jewelry Adorned With Semi-Precious Gemstones, Natural Pearls & Genuine Sea Glass
Introduced in 2014, the Van Der Muffin's Jewels collection of one-of-a-kind, handcrafted artisan jewelry is the work of fine jewelry artisan Courtney Andrea Fox, a resident of the Hamptons and New York City.
She was inspired to create the collection by her most loyal confidante, best friend and Chief Creative Officer, a chocolate Labrador Retriever named Feisty Tiger Sloane Van Der Muffin.
---
Each of her one-of-a-kind 'jewels' intends to capture the spark within whom it is predestined to adorn.
Years spent gemstone and sea glass hunting in all corners of the world have amassed a meticulously curated 'treasure trove' of precious and semi-precious gemstones, freshwater pearls, one-of-a-kind genuine sea glass and unique vintage gems.
Visiting this collection many times over during the design process, her art-to-wear adornments 'come to life' when they are perfectly co-mingled
with other complimentary, hand selected materials.
---
Her pieces are frequently worn when commemorating joyful moments or simply in celebration of the start of each new day.
Within each, she pays tribute to the myriad of time honored techniques and traditions that have been inherited from generations of jewelry artisan masters, and the legions of avant-garde 'art-to-wear 'aficionados who have stewarded their creative journey along the way.
---
Van Der Muffin's Jewels' Hamptons Sea Glass Collection was inspired by the discovery of a beautiful, smooth-as-silk, frosted Aqua sea glass shard whilst walking beside the ocean shore in the Hamptons with my trusty companion, Tiger.
Positively glowing in the midday sun, I could have sworn I'd stumbled upon a giant, semi-precious gemstone - perhaps an Aquamarine!
Fascinated with my find, I instantly fell in love with Mother Nature's precious gems and took to the internet to read anything and everything I could find about genuine sea glass.
---
Tiger and I now love every minute of our 'treasure hunting' ritual.
We explore a different beach every day, forever in search of the most fascinating and beautiful 'jewel of the sea' to complete our one-of-a-kind, fine jewelry creations.