Painted sea glass pendants
by Sue B.
(NJ)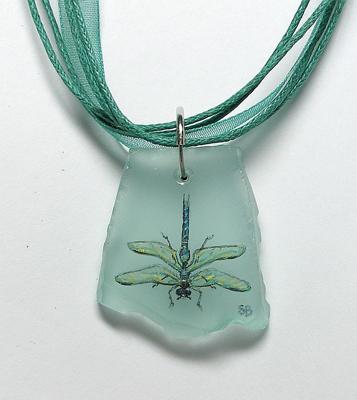 ~Submitted by Sue B. - NJ

I have painted rocks in the past so I thought I'd see how well the frosted surface of sea glass would take paint.

Of course, it has to be sealed with a protective coating to wear well, and the only way to do that is to carefully coat just the painted area so the texture of the rest of the glass isn't affected.

Here are a few examples, both are quite small (about 1")

Find out how to use your sea glass and other beach finds to make pleasing eye catchers:



Organic Crafts: 75 Earth-Friendly Art Activities
This ecofriendly craft title encourages children to explore the natural world through projects based on natural, nontoxic, and renewable materials. Grouped into categories such as "Trees, Leaves, and Twigs" and "Rocks, Pebbles, and Shells," the projects lead ...

Painting on Glass & Ceramic
"The real gems of this book are Embry's project instructions, which come complete with patterns that can be photocopied and used for tracing, comprehensive painting guides, and detailed..."

~ Tina Coleman