San Bruno, California - Pretty Beachin'
by Jim O'Connor
(San Bruno, CA)

Pretty Beachin'

San Bruno, California - USA

---

Glimmer of color
Gray stones glowing blue beneath
Glass hidden on beach


Thank you for visiting PRETTY BEACHIN'. My name is Jim O'Connor, and my wife is Sheryl.
We are currently located in San Bruno, CA and circulate throughout the Peninsula, but have no brick and mortar street address for our business yet.
---
Background
We started this, like all people do, with a day at the beach, that turned into many days and evolved from hobby to the excitement of creating something new out of something found.

We originally created items for each other out of the finest finds. Friends began asking about the creations and we found presenting them with something we made was very well received and we were encouraged to expand, and finally, here we are.
I like to think of it as community service, since I probably toted about one quarter of the glass out there while I was a teenager here. Now we go around and pick up the glass left from all the thousands of beach parties since those many years ago on the west side of the San Francisco Peninsula.
The results are found in our jewelry and art displays, constructed from Jewelry Grade A glass, shells and stones collected by us from beaches known to us to be productive and delivered to you at the most reasonable price possible.
---
The Sea Glass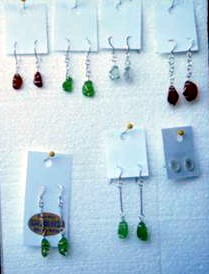 We do not purchase any of the glass, shell, bone or rock: these are all personal finds by one of us.
We try with each item to make it like it were for ourselves and do not make any "lines" or mass productions
of any of our items, each is unique.
No one ever sees items that don't please and inspire us.
We use quality new materials, and try to find unique methods of mounting and presentation to make your item a one of a kind, alluring item of which you may be proud and confident.
Our hope is: On the days you can't get to the beach, you can bring the beach with you wherever you go with the spirit of our designs. All items are made stress and karma free by loving hands and minds enjoying their endeavor.
---
Services
Please take a moment to review our offerings and hopefully find that particular item which twinkles for you and brings you the joy of the beach you love. We are happy to undertake custom designs or offer components if you wish to DIY.
It's all about the joy of the beach and memories that joy brings to each of us. If we can help light that candle for you through our art and creations from the random gifts of the sea, we have done our job.
---
---
PLEASE NOTE:

The sea glass business listing on this page is not part of OdysseySeaGlass.com. We provide this listing as a free service to other sea glass related businesses. So, if you need information about the business on this page, you will have to contact them directly. Their contact information appears below.



Thanks!
---
---
Contact us anytime online, or on weekdays until 7pm Pacific time during the week by phone. We will be happy to give any information we can to help you select or create your bit of the beach.

Jimio46@AOL.com
650.520.0123