Sell Jewelry Online
How to Sell Jewelry Online: Sea Glass Jewelry
If you want to sell jewelry online, you'll have the easiest path to success by following these four steps:
Focus on creating pieces for a specific customer niche.


Make your work unique by including uncommon techniques and/or materials.


Set up a jewelry website, blog, or online storefront that motivates your targeted customers to shop from you.


Find the social spaces where your chosen jewelry customers hang out online, and join in as a genuine friend, not as a salesperson.
Now let's see how to apply these four steps to selling sea glass jewelry online.
1. Profile Your Sea Glass Jewelry Niche Customers
In order to sell jewelry online, it's helpful to create a detailed mental picture of your niche's most likely customers. Then you can focus your designs, your online storefront, and your marketing efforts to provide whatever motivates and moves them. So if you've chosen beach glass jewelry as your niche, what can you guess about your targeted customers?It's a good bet that many of these folks are interested in things like:
beaches
islands
the sea
beach-combing
tropical travel
sea animals
surfing
sailing
boating
vacation cruises
Nature
nautical things.
Now how can you appeal to these folks and connect with them?
2. Make Unique Sea Glass Jewelry
Most of us don't feel any urgency to buy a pair of earrings that look pretty much the same as dozens of other earrings we've seen before.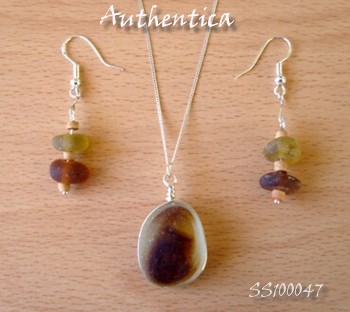 But if something wonderfully different catches our eye, we're far more motivated to buy it. So the more unique your jewelry is, the more interested your customers are likely to be in purchasing it.
It's a good idea to constantly keep an eye out for unusual jewelry components you can combine with your sea glass to create pieces that look distinctively different from other jewelry lines in this niche.
Also consider using some less common jewelry-making techniques in your designs, to make them even more unique.
3. Create an Online Presence that Appeals to Your Niche Customers
A huge factor in selling jewelry online is helping customers feel the emotion, the dream, and the lifestyle embodied
by the type of jewelry you make.
So create an online presence with a mood and atmosphere that will resonate deeply with your sea glass jewelry customers. Consider giving your blog or online storefront a beach-themed look, or a sea and sand color scheme. Make it feel like a beach boutique, so your beach glass jewelry will look right at home in it. Help customers feel that your sea glass jewelry is a talisman that connects them to that dreamy, wonderful beach feeling they love.
4. Connect with Sea Glass Jewelry Customers Online
So now you've come up with your niche customer profile (in step 1 above); you've created an appealingly unique beach glass jewelry line (in step 2); and you've developed an online presence that resonates with your targeted customers' deepest beach feelings (in step 3).
Now it's time to meet and connect online with the people who are most likely to buy your jewelry.
Using the customer interests you came up with above, find some of the most likely places where these folks hang out on the web to socialize with other beach-minded people.
Explore some social networking sites, forums, Facebook groups, Ning.com groups, etc. that focus on the beachy topics listed in step 1 above.
Join a couple of the more active communities you find, and start participating in the "conversations" there. Talk about whatever the rest of the people there are conversing about - beaches, seaside vacation recommendations, surfing experiences, etc.
Participate regularly and become a true friend to the other members. Focus on building genuine relationships naturally with your new social site friends. NEVER participate as a business owner with a product to sell.
Use a photo of your beach glass jewelry for your avatar picture, and link to your website in your signature and on your profile page.
Your beach-minded social networking friends will discover your sea glass jewelry in a natural way - and they will be extra motivated to buy from you because they know you and like you. This is one of the easiest and most enjoyable ways to sell jewelry online.


Rena Klingham
Sea Glass Jewelry Making Jewelry Now