Smathers Beach/Key West
by Allison Rueckl
(Tampa, Florida)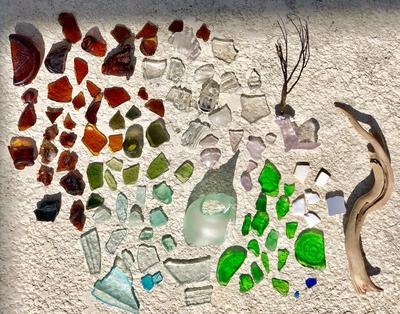 Found along a 1/8 mile stretch of beach & all found in under an hour!
Key West, Florida, USA, Spring 2018
Visited Key West, FL at the end of March 2018 and found a plethora of sea glass & sea pottery just west of Smathers Beach. Walking foot paths to beach can be found off Atlantic Blvd (or you can just start at the Smathers Beach public park and walk down the coastline westward.)
I found all of the pieces in this photo in under an hour. WOW! See pictures! Clears, greens & browns abundant, as expected - but the aquas and amethysts were also! I found a few pieces of milk white, a small cobalt, and even a huge chunk of black (held up to sunlight, you can see hints of very deep green)...not to mention the pieces of pottery & driftwood!
All tumbled enough so that edges were smooth. Some better frosted and rounded than others. Lots of bottle pieces with legible clues: Partial bottom of brown Clorox bottle, a blue/green piece from a Coca-Cola bottle and one giant piece of well frosted amethyst stemware or candleholder? The sea's power is amazing, isn't it? Beautifully contorting the bottle fragments into new (yet still recognizable) forms.
Perhaps we can thank last year's hurricane Irma for these gifts? I don't see any other reports of sea glass in Key West...very interesting! Happy hunting to you! And please continue to share your treasures and tips on finding sea glass beaches!
~ sea glass beach report by

Allison Rueckl
---
Home
>
East Coast Sea Glass
---
Scroll down for comments...