~ by Anne Olson in Toronto, Ontario, Canada
Hand wrapped sea glass/beach glass jewellery direct from the glunker/artist, Anne Olson.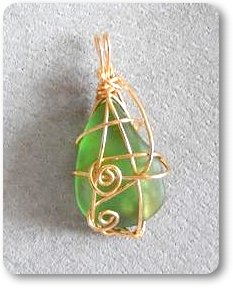 All of the sea glass used in these creations are genuine and unaltered, naturally shaped and beautifully kissed with frost, created from decades of tumbling in sand and surf.
They have each been picked by my hand from the shores of Lake Ontario.
Background


I have a love of both beach and city. Living in Southern Ontario, Canada,

I really do have the best of both worlds. With the passion that I have for the beach and for sea glass/beach glass, I found the Great Lakes to be an adequate, if not a surprisingly brilliant substitute for the Atlantic Ocean I am so fond of.

Quietude and an abundance of seaglass are only a short drive from home lending me the opportunity to visit often, even if I have only a short amount of time in a day to soak in a stolen moment of tranquil paradise within the bustling city.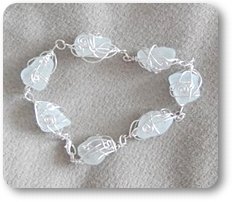 I have been collecting sea glass/beach glass and beach porcelain/pottery from coast to coast (and in between) for 18 years.
I started my collecting in New Brunswick, Canada and it quickly morphed from an interest into a passion on the coast of Massachusetts, U.S.
However, the most beautifully worn pieces that I have found have been picked from beaches on Lake Ontario.
While the surf kicks up appropriately enough to wear the glass well, the waves don't tend to be frequently as violent as those in the ocean.
Great Lakes glass tends to remain intact more often, producing a large amount of jewellery quality pieces.

I recently decided that it was time to create special items with some of my gems and build a small business.
Collection Details
This artistic collection includes pendants, earrings, bracelets, necklaces and suncatchers wrapped with non-tarnish silver plated/gold coloured wire.
Due to the nature of sea glass, each piece is one-of-a-kind. Shapes, sizes and colour of glass used in earrings are as close as possible a match.
Custom orders are always welcome should there be a particular colour, size or shape that you would prefer.
Pieces will also soon be available in solid sterling.
Contact Info
Please feel free to contact me in Toronto, Ontario, Canada at sandbarsandseaglass@mail.com