What was this? Sea glass? Please help

(Boston MA USA)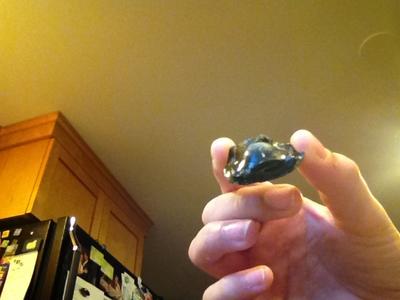 Sea glass?
~ by Anonymous from Boston MA USA

Found this piece in St.Barth French West Indies.

Can anybody suggest what it might be?


---
From Wikipedia:
Saint Barthélemy (French: Saint-Barthélemy, officially the Territorial collectivity of Saint Barthélemy (French: Collectivité territoriale de Saint-Barthélemy), is an overseas collectivity of France.
Often abbreviated to Saint-Barth in French, or St. Barts (also, St. Barth's) in English, the indigenous people called the island Ouanalao.
The collectivity is one of four territories among the Leeward Islands in the northeastern Caribbean that comprise the French West Indies, along with Guadeloupe (200 km southeast), Martinique and Saint Martin.
St. Barts lies about 35 km (21.75 mi) southeast of Sint Maarten/Saint Martin, and north of St. Kitts. Puerto Rico is 240 km (149.1 mi) to its west in the Lesser Antilles.
Saint Barthélemy, a volcanic island fully encircled by shallow reefs, has an area of 22.1 km² (8.5 mi²) and a population of 8,902 (Jan. 2009 census).
Its capital is Gustavia, which also contains the main harbour to the island.
It is the only Caribbean island which was a Swedish colony for any significant length of time; Guadeloupe was under Swedish rule only briefly, at the end of the Napoleonic Wars.
Symbolism from the Swedish national arms, the Three Crowns, still appears in the island's coat of arms.
The language, cuisine and culture, however, are distinctly French. The island is a popular tourist destination during the winter holiday season, especially the rich and famous during the Christmas and New Year period.
You might like these pages related to sea glass in the West Indies:

And:
West Indies And Central America Map
24x18 Premium Poster - This premium poster is a reproduction printed on premium grade poster paper, which is far thicker than standard poster paper. With brilliant color...