10/10/21 Perkins Beach, Cleveland OH
by Sandy Mason Rivera
(Medina, OH)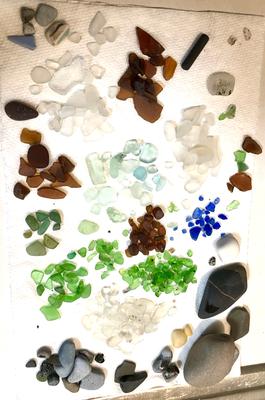 More smooth teardrop shapes than I have found elsewhere!
We found dozens of beautiful pieces in plain view on Perkins Beach, adjoining Edgewater Beach near Cleveland, on Sunday, Oct. 10, 2021. It was unusually warm and there had been some rain overnight. We were hunting from about 5 to 7 pm. My biggest piece is a bit of a mystery—see picture 2. It looks black, has a tiny hole partway through the middle, and is an amber shade when a flashlight is placed below it. I don't know if this is glass or a rock.
Join in and write your own page! It's easy to do. How? Simply click here to return to Photos Catch of the Day.
---