2019 - EDGEWATER PARK - CLEVELAND, OHIO
by DONNA MARIE
(CLEVELAND, OHIO)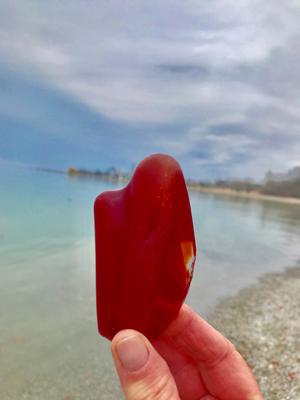 BIG RED!
Spent the entire day at Mentor headlands and found very little if nothing on the beach.


On the drive home we decided to stop at Edgewater Park(we never find anything there)and walk the beach to finish getting in our 5 miles for the day.
I was walking near the brush away from the water and saw what I thought was a piece of red plastic (you know you have to pick up everything you see right?)
I about DIED when I realized it was glass. I ran to the beach to put it in the water to see the true color.
AMAZING FIND.