27Apr13 Halona Blow Hole, Oahu, Hawaii
by Amanda
(Kailua, Oahu, Hawaii, USA)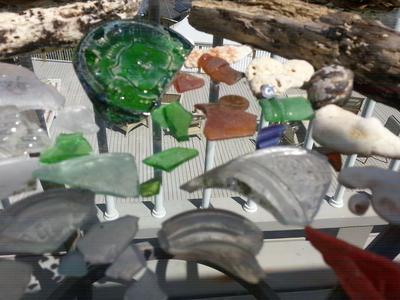 ~ submitted by Amanda, Kailua, Oahu, Hawaii, USA

This is from our first sea glass hunt. My husband and I first went to Bellows Beach at about 7:30 am.


We didn't find one piece of sea glass or any glass at all. It was beautiful though.

Then we drove by
Sandy Beach
, which I heard was a great place to find sea glass.
However it was already crowded with surfers.

Then we went to
Halona Blow Hole
.
I heard that Pirates of the Caribbean was filmed there.

We finally found some sea glass and an ear ring there!

I think some aren't even considered sea glass :)

We were not picky because we couldn't find a lot.
I think we need get there at sunrise before anyone else gets there!

It's a semi-dificult walk down to the cove, but I think others had already been there even though we were the only ones at the time.

Please give me feedback.
I think at least 2 are good.

I'm not sure about the ear ring my husband found in the sand.

I really don't think it's real but it was exciting for a few minutes!


In front of the Sheraton Waikiki - Sea Glass by Mary Todd
Wakiki Beach, Honolulu, Oahu, Hawaii - Pieces were very frosted. Many clear pieces, always found in pairs. There were huge amounts of light blue and white sea glass, and a plethora of green and brown usually found in a frosted...


9-25-2012 Honolii beach Big Island, Hawaii (2 miles north of Hilo)
Sea Glass Catch of the Day submitted by Jessica Jansen of Alaska Honolii beach Big Island, Hawaii This is just two one hour visits with a one year.



Sea Glass from Hawaii! - Odyssey Sea Glass
Aloha, As they say in Hawaii, I'm lucky I live Hawaii particulary when it comes to sea glass beachcombing! Frequently, people comment on my sea glass.