4th Annual Cayucos Sea Glass Festival
4th Annual Cayucos Sea Glass Festival
MARCH 8 & 9th, 2014
Saturday & Sunday 10:00am - 5:00pm, Cayucos Vet's Hall (at the foot of the Pier); Entry: $5.00
Calling all Sea Glass enthusiasts, Sea Glass craftspeople and Sea Glass jewelers and artists!
Come discover why sea glass collecting is so popular on coasts all over the world. Cayucos Chamber of Commerce is hosting this exciting Central Coast event by the beach.

Vendors from around the nation will be selling and displaying their sea glass treasures and creations.

Also, place your bids at the silent auctions to win some great prizes.

Local wine, beer and food vendors will be selling their specialties under the tent next door, and enjoy live music overlooking the surf.
Richard LaMotte
, renowned author of "Pure Sea Glass", will be selling and signing his merchandise.
Become a sea glass expert at the new Sea Glass Discovery Station and smile for the camera with real mermaids.

Cayucos, California Map:
Cayucos is located halfway between Los Angeles and San Francisco, near the world famous Hearst Castle.
This quaint town has lodging to suit every beach lover's needs as well as fantastic weather and beaches.
See www.cayucoschamber.com for more information.
CONTACT
: cayucosseaglass@gmail.com

See also: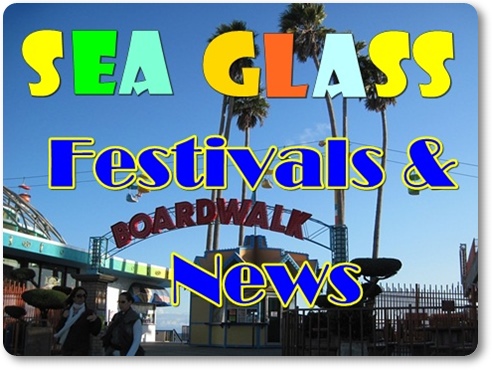 Sea Glass News, Festivals and Events