Home
- Agate Rocks
Agate Rocks, Agate Collecting, and Agate Beach, Oregon?
Collecting Agate Rocks - Why the Fascination? Places Where Agates are Easily Found
Pebbles, beach glass, shells, and agates - these might be called companions of the shore, since many sea glass collectors are also enthralled with these beachcombing finds.
Even though Lin and I are primarily "seaglassers," we love to find agates. The photos on this page are of agates we've found on various Pacific shores.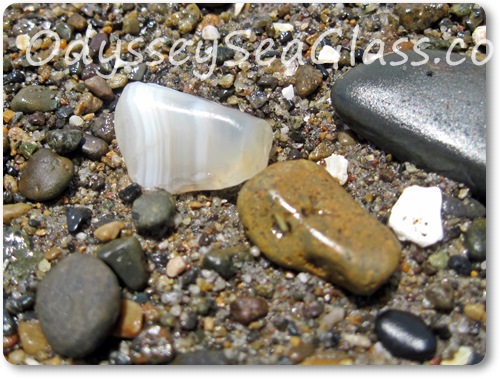 We found this beautiful water-washed agate on the beach in Huanchaco, Peru, South America
On this page we take a brief look at:

From the Great Lakes (Lake Superior Agates) to the beaches of Oregon, agate collecting is a growing pastime, especially of you have access to beaches like Agate Beach, Oregon.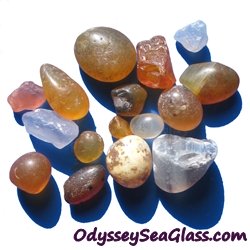 Here are a few of the agates in their natural state that we (Lin and David) have found.
Natural highly-polished agates are called "water-washed" agates and are a special surprise for beachcombers on ocean and lake beaches.


Agate Rocks
One of the fascinating aspects
of the beaches where we've spent in Northwest Washington, specifically the beaches we know on Fidalgo Island and Whidbey Island, is the beautiful beach pebbles, including quite a few agates, that we find here.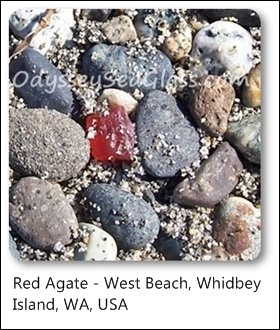 Agate Collecting
There are several Washington beaches
where Lin and I have found many of our agates. Of these, Rosario Beach on Fidalgo Island gets our vote as the best one for beach pebbles. It also has its share of agates.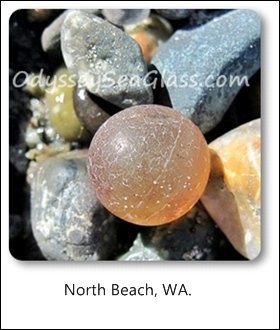 Among the other Washington beaches,
North Beach (Olympic Peninsula), Bowman Bay on Fidalgo Island, West Beach (Deception Pass Park) and Moran Beach on Whidbey Island - also have beautiful agate rocks and beach stones.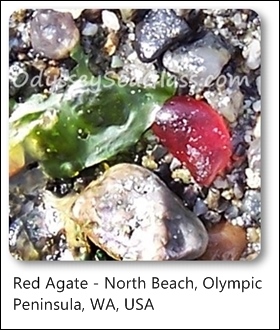 While looking for sea glass,
we are continually distracted by the beauty of these smaller rocks and pebbles, especially when they are in the shallow water. The colors and patterns are truly amazing.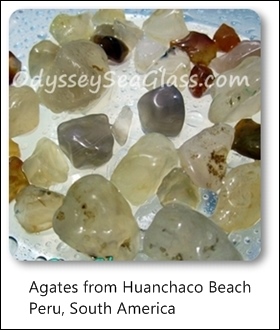 Although we told ourselves
awhile back that we would NOT bring any more rocks home, just stick with the beach glass, we couldn't resist the attractive agates, rocks, and pebbles, so...we finally gave in and now at times come home with more small rocks than sea glass!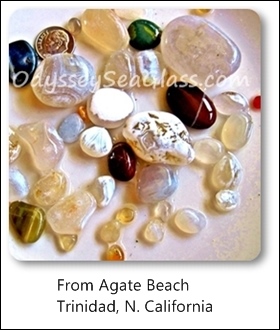 Agate Beach Oregon
Agate Beach, Oregon, got its name because of the many agate rocks that are found on the shoreline between Newport and Yaquina Head. Here the waves of the Pacific Ocean wash across the sand and beach rocks, exposing a new layer each turning of the tide, and grooming the beach for the next couple to do their agate collecting.
Agate Beach actually was a community center with a post office started there in 1912 and remaining open until 1971.


Agate Beach State Recreation Site is a state park in Lincoln County, Oregon United States, administered by the Oregon Parks and Recreation Department.


Beach access is via a tunnel under Ocean View Drive, but beach strollers usually park at the parking area edging the beach.

Agate Beach Oregon

This is when the tide is way out.

Agate Beach Oregon photo courtesy of mulmatsherm
Some more great pages you might like!
---