Home

>
Sea Glass Appraisal
Sea Glass Appraisals
Sea Glass Appraisals - before you sell your sea glass, get it appraised by professionals. Full reports include inside tips on selling and buying beach glass.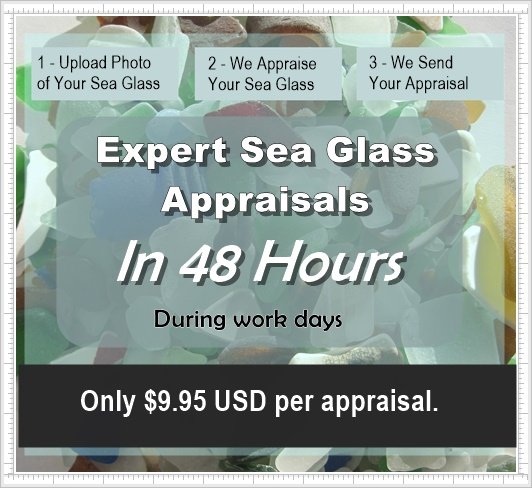 The appraisal covers up to 100 pieces of sea glass. For larger collections please write us:
davidadmin@odysseyseaglass.com
Here's What You Need to Do:
First - If you have more than 20 pieces of sea glass, separate them by basic color groups - white, brown, green, blue, etc.
Take up to 10 photos of your sea glass, from different angles, front and back.
Next - Upload the photos in an email message addressed to Lin and David. Click or copy: 
davidadmin@odysseyseaglass.com
Put "Appraisal" in the title.
We will then evaluate your sea glass. If needed, we will ask you for more information.
Our report to you includes a detailed description of how we arrived at the evaluation as well as general information on how to sell sea glass.
Payment is through Paypal, which includes credit card payments (you don't need a Paypal account).

Start the appraisal of your sea glass now for only $9.95!
Place your sea glass on a neutral colored surface.  A wood table or board is good. If your sea glass is all a dark color, take some photos on a white surface.


Take your photos in the direct sunlight. Hold your camera about 15 inches (40 cm) away from the beach glass.


If you have rare colors, take separate photos of those colors.
Questions? Just drop us a line at davidadmin@odysseyglass.com
---
---