Bay Head Beach Sea Glass NJ
by Jenn Casper
(North Jersey)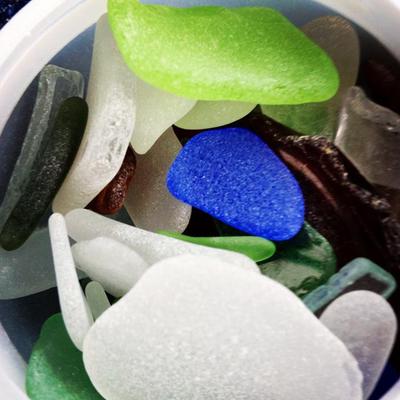 Beach Glass (Bay Head, NJ)
~ submitted by Jenn Casper, North Jersey


Name of the Beach
Bay Head Beach
City nearest to that beach
Point Pleasant Beach, NJ
The state, country, or island where the beach is
Bay Head, New Jersey
Describe your find
My fiancé and I love searching for sea glass whenever we go down the shore.
On 6/30/13, he actually proposed to me on this exact beach while searching for sea glass!! (Needless to say, I found THE biggest piece that day!) :D
We usually go searching for it in the off season which is when we get lucky, especially in November-February.
We always seem to find frosted clear and browns; usually very smooth pieces.
However, this last time we found many shades of greens and blues! I felt like I hit the sea glass jackpot!!
The two pictures are from 12/30/13. :)
Add any other suggestions or cautions that will help others.
I highly recommend people searching for sea glass in late fall/winter time.
It does get very windy so dress warm!
But the beautiful treasures you find are worth it!
Off season: the beaches are free.
Peak months: You have to purchase a beach badge if you plan on spending the day. After 5pm the lifeguards go off duty and it is free to search around.
Good luck and happy searching!!
~ submitted by Jenn Casper, North Jersey
Scroll down for comments...

See Also: