Home - Sea Glass Jewelry - Beach Bracelet
Beach Bracelet, Sea Glass Bracelet, Seaglass Bracelet
All of Lin's jewelry is available exclusively at:

The Chesapeake Gallery / House of Frames
475 Main Street
Prince Frederick,
Maryland 20678

Contact Information:
Joe & Bev Smialek
Phone     410.257.1420
Email     smialekjoe@verizon.net

Puget Sound Seaglass Bracelet


Aqua sea glass
Sterling silver wire wrap
No glue or soldering
Size 7-1/2 inches adjustable

Puget Sound Area Sea Glass Bracelet.


Soft green sea glass
Sterling silver wire wrap
No glue or soldering
Size 7-1/2 inches adjustable
Linje designs -Sea glass jewelry made by Lin using sterling silver, gold-filled, copper, or brass wire to wrap unique and original jewelry creations for you. Lin has years of experience making custom jewelry. However, due to problems with joint pain, Lin currently has cut back on her jewelry production and has her sea glass jewelry only at the House of Frames/Chesapeake Gallery in Prince Frederick, MD.

---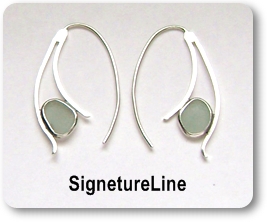 Another real artist with sea glass who we highly recommend is Signe Lawson.

Signe brings the sea breezes to us in contemporary fashion with her hand-forged, bezeled designs.

One of our favorite artisans, Signe really adds a touch of class to her jewelry lines.

Be sure to take a look at her beautiful sea glass artistry at her SignetureLine Etsy Shop.



Here's Lin's Recommended Reading on Jewelry Making:

---
Sea Glass Bracelet and other Odyssey Sea Glass jewelry - What do these have in common?  First, of course, that they're all made of genuine sea glass. Secondly, they're all recycled jewelry, or environmentally friendly jewelry pieces. Thirdly, they're all original sea glass designs, no two ever alike!

It is interesting to note that jewelry has a long history. In fact, in the world of archaeology, one of the mainstays in cultural excavations is the jewelry worn by various peoples over the millenniums of man's existence.

To you and us, fans of beach glass, it doesn't come as a surprise that the oldest jewelry found to date, according to most sources, are beads made from seashells. Just think...when you are out there on the beach, combing the sand, you are participating in one of the oldest hobbies/businesses in the world!

While jewelry, including beach bracelet (including sea glass bracelet or sea shell bracelet), beach earrings, and beach beads is generally associated with women, men also have used jewelry, including beach-inspired jewelry, for adornment during the course of history and in our times.

For example, puka shells are still popular for beach wear among even the most athletic of men, including necklaces and beach bracelets.


---