Beaumaris, Anglesey Sea Glass - North Wales, UK
by Kriket Broadhurst
(Beaumaris, Wales. UK)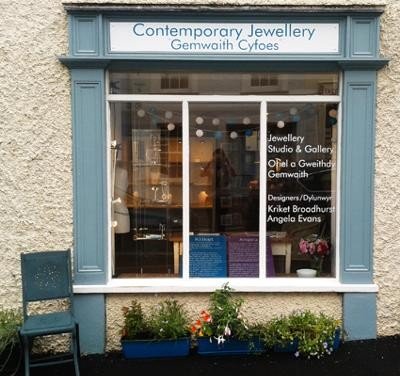 Beaumaris, Isle of Anglesey Sea Glass - North Wales, UK
Kriket Broadhurst, Sea Glass and Silver Jewellery

15 Church Street, Beaumaris, Isle of Anglesey. North Wales.UK LL58 8ED UK


---
Background
Originally from Australia, I now work from my seaside jewellery studio and gallery in a quaint village, on the beautiful Isle of Anglesey.
I am a silversmith and designer who specialises in designing and creating jewellery featuring sea glass as well as my handcrafted ceramic beads.
| | |
| --- | --- |
| | In recent years, I have discovered the allure and in turn developed a passion for searching for sea glass along the shores of Anglesey, the UK and Europe. |
---
The Sea Glass

Most of the sea glass I use in my jewellery was found in Barcelona, Cornwall and on Anglesey.
I only ever work with pieces I have found myself, and continue to research new beaches that we may be able to travel to in our old VW campervan for a great day of beach combing and exploring.



Combining the best of my sea glass finds with silver and gold elements I create totally unique and one off designs.


My finished designs are usually dictated by the individual pieces of sea glass and I strive to keep my designs simple and delicate to allow the colours and soft textures of the sea glass to shine through.



I create rings, earrings, bracelets,
bangles and necklaces and will happily take on commissions to create a bespoke design.

Each piece of my jewellery is made with passion, integrity and skill, resulting in a really fresh, modern, original collection of work, that suits personalities who like to collect and treasure hand crafted, personal pieces.

I find people are really drawn to the sea glass and love the texture, colour and delicate nature of it.


---


Reflections
My jewellery designs and photography are definitely inspired and influenced by exploring and living in different countries; the ever changing ocean and it's coastlines.
I hope to continue creating desirable pieces with my sea glass collection for years to come.
---
---
PLEASE NOTE:

The sea glass business listing on this page is not part of OdysseySeaGlass.com. We provide this listing as a free service to other sea glass related businesses. So, if you need information about the business on this page, you will have to contact them directly. Their contact information appears below.



Thanks!
---
---
Contact Info
I am open throughout the year from Monday to Saturday: 11am - 5pm


Feel free to contact me via
http://kriketbroadhurst.com
or
http://www.beaumarisjewellery.com/
or call me on +44 1248 812 063
Sea Glass - Beaumaris, Isle of Anglesey. North Wales.UK
---
Map

- 15 Church Street, Beaumaris, Isle of Anglesey. North Wales.UK LL58 8ED UK
View Larger Map