Blue Daze - January 2017 Sea Glass Photo Contest
by Denny M
(East Haven, CT, USA)
~ sea glass contest photo was submitted by Denny M, East Haven, CT, USA

Where was this photo taken?
Taken in my backyard, the pieces are from the East Haven Town Beach (Cosey Beach) East Haven, CT, USA
Weather and time of day?
A hazy winter afternoon after a very successful beach trip
What were your feelings or impressions when taking this photo?
I was very excited to find three pieces of blue seaglass, as around here it's quite hard to find.
The third piece in my hand is a favorite of mine. While it looks sharp, it's actually quite smooth, and the bumps that cover the light blue piece are extremely interesting to me.
The one piece in the middle, looking like it belongs to the bottom of some bottle, is one of the most beautiful shades of blue I've ever seen.
And finally, the smallest light blue piece is flat and smooth, and was a bit of a struggle to get, as when I went to get it, the ocean took it back out. Luckily, it didn't fall too deep, and I was able to snag it without getting soaked.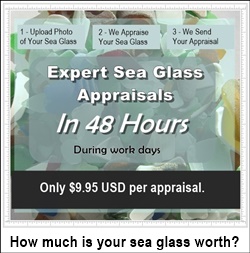 What kind of camera and/or lens did you use?
I used a
Nikon D5100
. The lens is just the base one you can get, an 18-55mm lens.
What tips do you have for taking good photos of sea glass?
Lighting and angles truly make the photo, especially when trying to capture the beauty of the pieces.
A little bit of editing never hurts either, even if it's only adjusting the contrast of the photo.
~ sea glass contest photo was submitted by Denny M, East Haven, CT, USA