Aliso Beach and Crystal Cove - Sea Glass Beach Report
by Sue
(Westminster, MD)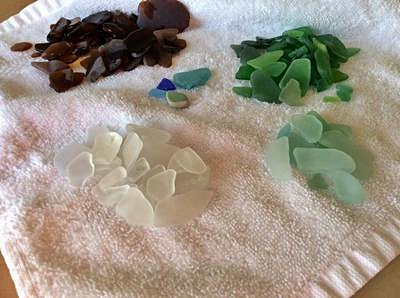 Crystal Cove State Park Beach - Beach - Sea Glass Report
~ Crystal Cove sea glass report submitted by Karen from North Carolina, USA

Crystal Cove State Park Beach - Sea Glass Report
Crystal Cove State Beach
It's near Newport, Southern California

In two hours I found about 30 brown, 30 green, 15 white, 8 aqua, 1cobalt, 1 tile, about one inch average size (see photo above).

All frosted, mostly rounded.

Mostly brown and green.
~ Crystal Cove sea glass report submitted by

Karen

from North Carolina, USA



Aliso Beach Sea Glass Report
~ sea glass beach report submitted by

Sue

- Westminster, MD
Name of the Beach
:
Aliso Beach
Aliso Beach at Laguna South and Crystal Cove State Park on the Newport Coast - California


City nearest to that beach:

Laguna Beach and Newport Beach, CA


Report:

I was visiting my son in California and we went sea glass hunting several days.

We found quite a bit, but not large, combing the beaches at Aliso Beach and Laguna Beach South.


~ sea glass beach report submitted by

Sue

- Westminster, MD

Newport Area Beaches Map:
View Larger Map
Added Info:
Newport Beach

became very popular for beachgoers from nearby Los Angeles as far back as 1905, when a railroad connection opened and easy way for beachlovers to get there.

There are actually several beaches between Newport Beach and Laguna Beach, including Crystal Cove State Park, where a combination of tide pools and sandy beaches can provide a good sea glass or beach glass environment.

One

of the famous spots in Newport Beach is "The Wedge," a well-known body surfing spot that gets pretty crunchy, as David at Odyssey knows well from personal experience!

Since the Newport Beach - Aliso - Laguna Beach, Calfornia areas have been frequented by visitors and inhabited for over 100 years, it is logical that a lot of glass has found its way to the beaches.

However, many of the beaches are sandy and some have been filled in, both of which conditions hide much of the sea glass that might have been "sown" there in the past.

On the beaches of Crystal Cove, Aliso Beach, Newport Beach, and Laguna Beach, look for the areas where headlands come close to the shoreline; where pebbles are mixed in with sand and/or reef.

About 10 miles south of Newport Beach, the coast of

Laguna Beach, California

is also popular with beach goers and surfers. These beaches have spawned various TV shows and are already familiar to millions of people today.

Restaurants such as Las Brisas, Laguna Beach, are great places to dine while watching beautiful sunsets with your favorite person(s).

If you haven't been to Southern California yet, this stretch of many beaches between Newport and Laguna Beach s a good place to find out what the California beach hype is all about!

The best time to go? I would recommend late summer/early fall - but that's just based on personal visits.
~ added by David from Odyssey "See Glass"

Newport Coast, by Crystal Cove Sea Glass Report
by Clayton Cheney
(Cedar City, Utah)
Name of the Beach. Newport Coast, near Corona Del Mar, California

My daughter and I found very few pieces close to Crystal Cove, as we moved north we found more.

North next to the rocks we started finding more pieces most of them small.

Mostly green and brown, several white, 3 pieces of blue and one red with white swirls, way cool. All very worn.

I did leave a larger piece of an old Coke bottle out there, it was also very worn.

I had a similar experience about two years ago.

Rate the beach: Fair


We appreciate this and all reports we receive. However, when evaluating a report, use good judgment.

Note:
No photos were included with this report.
As always, we remind folks that sea glass beach reports are not confirmed by Lin or me at Odyssey Sea Glass unless otherwise stated. Reports that do not include photos of the sea glass found are less reliable. So use your own judgement in deciding whether to travel to a particular beach or not.
Map of Newport, Crystal Beach area of S. California:
View Larger Map
See also these pages about Southern California beach glass:


Imperial Beach Ca Sea Glass
imperial beach pier San Diego CA Buy From Art.com Imperial Beach Ca Sea Glass Found around 10 pieces of green in a 30 min walk!!!
Sounds of Summer: Very Best of The Beach Boys
Everyone ... will appreciate what makes Sounds of Summer unique. This is the first single-disc collection to feature such a large cross section of hits from the group's entire career, spanning 1962's "Surfin' Safari" through 1988's "Kokomo." All 30 tracks, spanning several label changes, were Billboard Top 40 hits...

Crystal Cove State Beach
by Christopher Craddock
(Southern California, USA)
---
~ By: Christopher Craddock - Southern California, USA

Beach glass report for Crystal Cove State Beach, Laguna Beach, California, USA

My Family and i would find about 10-20 pieces of sea glass an hour (more if you counted very small pieces), the sizes ranged from penny-sized to the size of 2 quarters, the colors were mainly clear, brown, kelly and olive green, and seafoam blue. The pieces were smooth on the outside and were about 1/8-1/4 inches thick

There is a $10-15 parking fee. The best time to find the sea glass is during low tide at either 6am or 6pm. Also there seems to only be glass in the winter time, very few in the summer.


About the Crystal Cove State Park area:

If you are fortunate enough to live near or vacationed at southern California's beaches, you know that even with chilly water, the beautiful shores and interesting ambiance as well as good waves make the beaches provide loads of enjoyment for the whole family.

For sea glass, though, the predominance of sand makes it hard to find sea glass in many areas.

What you will find though, is that if you go at very low tide, reefs are exposed; and along the line of sand meeting reef rocks, you may find some great treasures. After a storm may be the best time, as more gravel is exposed.

This is true of the Crystal Cove State Park, located near the city of Laguna Beach, California. The State Park's shoreline has been designated as an underwater park, with tide pools to explore.

At Crystal Cove State Park beaches, as this report shows, you will have a great time looking for sea glass as well as being able to enjoy the 2,400 acres of undeveloped woodland behind the beaches.

Map of the Crystal Cove State Park beaches:
View Larger Map


~ See more reports on Crystal Cove State Beach in California, USA
Join in and write your own page! It's easy to do. How? Simply click here to return to Beach Report and Rating.
---