Factory Bay, Australia "Glass Beach"
by Sandi Myers
(South Australia)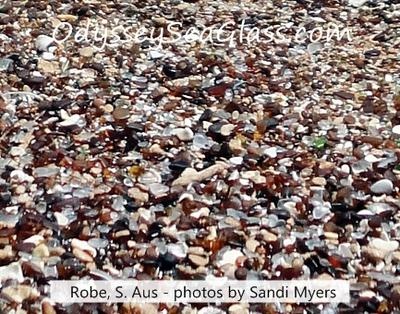 Factory Bay South Australia "Glass Beach"
~ sea glass beach report submitted by Sandi Meyers
Name of Beach and Location: Factory Bay - South Australia
Thank you for your Odyssey sea glass site.
I have tried but unfortunately am unable to post the pictures?

I thought it was high time I email you something of evidence that we do have sea glass down under!

These are from ROBE South Australia.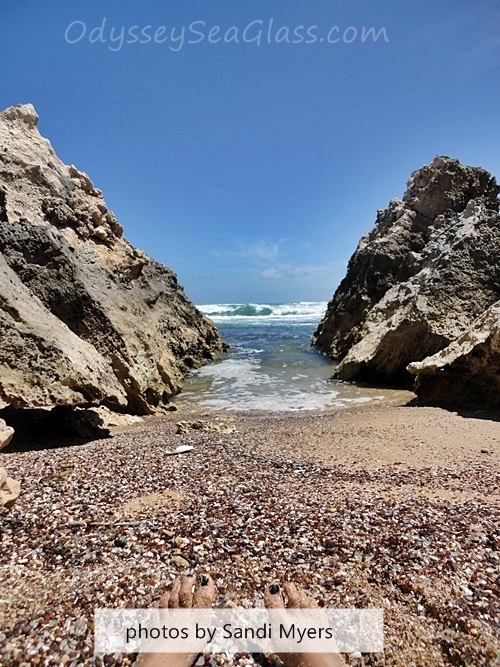 Factory Bay Glass Beach, Robe, South Australia
Your history/research is correct that this little cove is known as
Factory Bay
.
I have spent hours and hours here picking up glass. Mostly brown and clear well rounded pieces.
All the pieces pictured I found were from a day trip to Robe from Adelaide (5 hour drive one way).
Please feel free to use these photographs... Maybe post them onto the comments thread.
I apologise for the delay in contacting you with some pictures.
In all honesty my passion of late, marathon training has taken up my glunking time.
Kindest regards to yourself and wife Lyn,

Sandi Meyers.
~ sea glass beach report submitted by

Sandi Meyers
Info by David and Lin from OdysseySeaGlass
Great report, Sandi! We had been asking for more photos of sea glass from Australia, since we had lots of good reports/comments but few photographs of what really was being found at the various beaches (see below for more reports..
Well, Sandi came through with the best proven report on sea glass in Australia. Wow!
We have taken the original comments aboout Robe's glass beach from our page
Australia Sea Glass Heaven
and are posting them here to keep all the info together:
---
---

May 10, 2013


Robe, South Australia




by: Anonymous



The best place I've been to on holidays and came across sea glass was in Robe, South Australia.

There was more sea glass than sand!

It's the beach to the right of the only lighthouse in Robe.

We happened to stay in a holiday house literally right opposite the beach and accidentally came across it while looking through their sight seeing brochures.

I couldn't get there quick enough! It was the best experience ever!

Check out the cave there too!

All the sea glass collects in it and my hubby and I had an absolute ball collecting sea glass!

We came home with buckets and buckets of the stuff!

---
---



Sep 03, 2013




ROBE South Australia, did not disappoint!




by: Sandi Myers



After reading the comments to find 'bucket loads' of sea glass in Robe, South Australia.

Since May I've been keen investigate this claim.

It was worth the wait...AMAZING!

I have never seen anything like it.

My family spent glorious hours picking up well tumbled browns, whites,clear, sea foam,and greens.

I even fond a purple nugget!

Thank you for the tips.

I repeat I have never seen piles of frosted sea glass before.

Terrific finds and terrific weather...perfect.



---
Note from David and Lin @ OdysseySeaGlass:
The official site for Robe, South Australia, states:


-----------
Factory Bay was originally the site of a canning factory that used to can snipe and rabbits.
After the World Wars it was used as Robe's rubbish dump before people had an aware- ness of protecting the environment. Hotel green & brown bottles were dumped here and washed back into the cove.
The area was also known as Glass Beach from the polished sea glass.
-----------------------
We think someone should make a trip there and take some photos for all of us, don't you? :)



David and Lin
---
---
***z-odyssey-C2-end-of-content-ads.shtml***
***z-odyssey-C2-end-of-content.shtml***
Scroll down for comments...