God grant me clear days to hunt sea glass!
by Gale Campbell
(Northern New Jersey)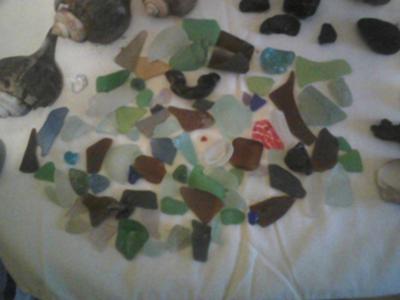 Some of my favorites
I started sea glass hunting in May of this year and I haven't stopped. I find great peace and excitement all at the same time.

I finally found a piece of red glass this month. Very tiny, its in the middle of the picture.

I go almost everyday provided the weather cooperates. In addition to sea glass, I also pick up regular glass. I call it doing God's work :-). No, I dont pick up cans lol. Each piece gets me excited.

I have jars full of white and most people pass up the white but each piece is special and beautiful to me. My husband hunts with me and he loves it every bit as much as I do.

We find other treasures beside sea glass. In the picture you may see the black obsidian we found. I think it is very beautiful.

I must tell on my self. I am extremely selfish with my beaches. When I get on the beach and see another hunter my heart sinks. I wonder if anyone else feels that way or if it is just me.

I have been so fortunate to have lived in two towns that are loaded with sea glass. I find sea greens, amethysts, blues. Still waiting on that orange and yellow. Its almost bad to say but I wish they would keep littering so I could keep finding glass. Thats a joke. However long it lasts though I will be in heaven.

Join in and write your own page! It's easy to do. How? Simply click here to return to Best story.
---