Home - Featured - Gulf Shores Vacations
Gulf Shores Vacations - Beach Combing - Alabama
New Orleans, Baton Rouge, Corpus Christi, St. Petersburg, Cape Coral - Exotic names from various cultures and history that have stamped the Gulf Region of the United States with a unique flavor and attraction.

Gulf Shores - Bill Coleman, Beach Comber
One of the interesting and colorful characters with a wide knowledge about the region is Bill Coleman, who I had the pleasure of getting to know recently.
After learning a little about his stomping grounds on his site about Gulf Shores, Alabama, I decided to get some firsthand information about this beautiful beach area.
The following interview is the result.

David - Bill, when we first began "talking" on the net and I found out you had a Facebook page about a beach location on the gulf coast - Gulf Shores - I was intrigued and wanted to get some first-hand knowledge about this beach. 
So, where is Gulf Shores and why do you find it so interesting?

Bill Coleman - Gulf Shores, Alabama is a beach town located about midway between Mobile, Alabama, and Pensacola, Florida - and excellent place for vacations.
The Intracoastal Canal cuts Gulf Shores, Orange Beach, Alabama, and part of Perdido Key, Florida off from the mainland. This island somewhere along the way picked up the name Pleasure Island.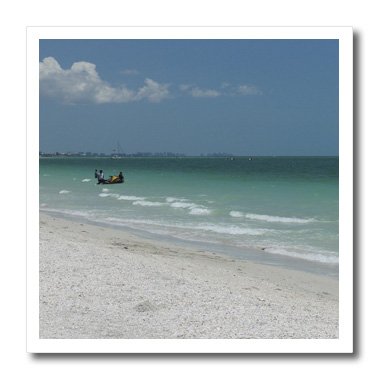 David - The only time I've come close to the beaches along the Gulf States has been while traveling and I don't know much about them.
What differences to you find between the Gulf Coast beaches and the beaches of the East or West Coast USA? Or Florida beaches?

Bill Coleman - Actually, if you have seen beaches in the Florida Panhandle like Pensacola Beach, Destin, and Fort Walton you already have an idea of what Alabama's beaches look like.
The sand  on the beaches of northwest Florida and coastal Alabama is much whiter than the sand on the Atlantic beaches, and even more so than the sand on the Pacific beaches.

Our sand is actually busted up white quartz that washed down from the  Appalachian Mountains.  I think it would be hard to find whiter sand anywhere in the world.

David - I know if Lin and I were there, we'd be up early looking for sea glass, shells, or other beach finds.
How much beach combing have you been doing there? What might one expect to find?

Bill Coleman - Your site, Odyssey Sea Glass interests me because I'm a treasure hunter.
One of my favorite hobbies is hunting for prehistoric Indian artifacts like arrowheads, knives, scrapers, and pottery shards.  I hunt creeks and rivers. I have a large collection.

I'm a beachcomber, and being a treasure hunter my eyes are always on the sand. I pick up all kinds of shells, sand dollars, starfish, driftwood etc. (I find my best shells by digging away from the shoreline.) 
But man made things like Indian artifacts and beach glass, I don't find on the beach. I think I might be hunting the wrong places. I need to spend more time on your site, don't I?

David - Of course! Oh, what is the weather like and what would be the best time of the year to go to Gulf Shores?

Bill Coleman - My favorite season for the beach is spring, followed by fall. The summers can be oppressively hot,  and our humidity is high. 
During the summer, at the beach, I try to stay in the water as much as possible, usually with a rod and reel in my hands.
The weather is variable in the winter. The highs can be in the 70's, or in the 40's (or even colder).  Cold weather never really sets in though - a few cold days, and then its back to comfortable.

David - What is the water temperature and what are some water-related activities in the Gulf Shores area?

Bill Coleman - The water temperatures in our part of the Gulf of Mexico vary from the high 50's in the winter to the mid-80's in the summer.

If you can do it in or on the water, you can do it on Gulf Shores Vacations - swimming, deep sea fishing, inshore fishing, surf fishing, skiing, boating, jet skiing, parasailing, scuba diving, snorkeling, spear fishing and even surfing.

We don't have the 'everyday" waves of the Atlantic and the Pacific, but the waves can get high especially after storms and near the passes.
When most people are leaving because of a hurricane evacuation, die-hard surfers head to the beaches and stay there until they are forced to leave by law enforcement.

David - Looking at your page, there seems to be so much to do. On a vacation to Gulf Shores, Alabama, what would you recommend as a must see for the whole family?

Bill Coleman - By far the favorite activity is the beach.
For the family I would suggest buying a beach tent as soon as they get to town, and set it up and take it down everyday. A tent makes the beach much more comfortable.

We also have a water park, Waterville, that has tall slides for the kids  and a lazy river for the parents.

The family might enjoy a deep sea fishing trip. The deck hands handle all the dirty work.  Even those who don't normally like to fish, might enjoy the boat ride and the photo-ops.  From what I've seen most people who try it once, want to do it again.
David - Is there a music or arts scene there?

Bill Coleman - Very much so. Many artists call the Alabama Gulf Coast home. World renowned marine artist Guy Harvey recently set up a shop at the Wharf on the Intracoastal Canal.

Our Shrimp Festival in October is really as much about art as it is shrimp. Artists from all over the world set up tents at the festival to promote and sell their work. There is a strict screening process to exhibit there and an artist as to be "accepted."

Music is everywhere - everything from blues to light pop, country to jam bands. Bars and some restaurants host musicians regularly. Taylor Hicks was regular on the island before he won American Idol.
The Amphitheater at the Wharf holds 10,000. A triple line-up of Bob Dylan, John Mellancamp and Willie Nelson recently played there. A recent Kenny Chesney concert sold out in  minutes. Lots of oldies acts play there at reasonable prices.
This summer we caught the Three Dog Night/America show, and that was fun. My daughter lives in Colorado and she came home to Gulf Shores this summer on her vacations to see the jam band "Widespread Panic" play three nights there.

David - What kind of food is typical to that area, and would you recommend a place to eat with a really local feel to it?

Bill Coleman - You can get any kind of food you want here, but seafood is king.  Some restaurants will even cook what you caught that day.

My favorite seafood restaurant is the Original Oyster House. You can get just about any kind of seafood there, cooked anyway you want it. The most popular restaurant is Lulu's. Jimmy Buffet's sister owns it and it's more than just a place to eat, it's an experience.
We have a good pizza restaurant over in Perdido Key, Lillians. That's my wife's favorite restaurant. Lillian used to be in a "dive" directly on the beach. When coastal real estate went through the roof a few years ago, she sold to a condo developer for millions. She opened a nice, modern restaurant across the street with the same pizza, but  we miss the "dive."
David - Tell us about your favorite vacation activities in Gulf Shores.

Bill Coleman - My favorite thing to do is walk the beaches. I can walk for miles. Of course my eyes are always on the sand.  Maybe I'll learn enough from your site to begin finding sea glass.

I also like to fish. I love surf fishing - you never know what is going to take your bait. Some pretty weird fish come out of the sea. Plus I love seafood.

David - Would you recommend moving to Gulf Shores?

Bill Coleman - There is nothing on earth like living near the beach, but one has to be a hardy soul who can roll with the punches. The weather can be beautiful, not a cloud in the sky. Then we hear a weather report about a hurricane heading into the Gulf. Hurricane Ivan put 18 inches of water in our home. Had to to tear it half down and build it back. Then it flooded again before we spent one night in it - faulty plumbing work.

But hearing the surf on the beach from my driveway, and living where people spend a couple thousands dollars for a week's vacation - it's nice.

David - Bill, thank you for being honest about the hurricane possibilities. I think I could handle it...but Lin has a different opinion! On the other hand, we would love to visit. Thank you so much for the great information.

Bill Coleman loves fishing and spends much of his time on the beach in permanent Gulf Shores vacations.



---