Identify these Beach Finds or?
by Melanie Saxton
(Greensboro, NC)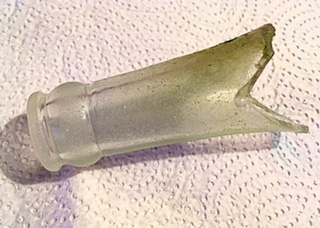 ~ sea glass photos submitted by George, Greece
Sea Glass Era?
Were either of them used on a ship that wrecked?
Any ideas about these? Both found on the shore of Southport, NC
-Bottle neck is cloudy/clear with a light texture
-Mug handle is a beige/yellow hue with what looks to be fine lines of "crackling" or "webbing" that are a green color.
The interior part of the handle is more smooth to the touch compared to the outer, which has light smooth/grit feel to it.
It looks glazed and has some imperfections like bubbles and indentations near the bottom lip of the handle.
Who would use such pieces and for what?