June 9th 2017 Fortescue New Jersey/Old Cobalt Blue Medicine Bottle #19 on Bottom
by Elizabeth Simkins
(Millville, NJ)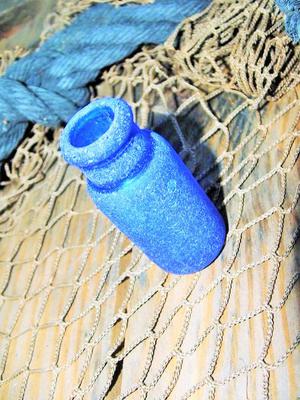 Small Blue Bottle
~ sea glass photos submitted by Elizabeth Simkins, Millville, NJ
Fortescue New Jersey

June 9th 2017
Found this beautiful old Cobalt Blue medicine bottle on the beach at Fortescue New Jersey.
I collect a lot of sea glass there but this is the nicest piece I've ever found!
Does anyone have any idea what it's worth???
~ sea glass photos submitted by

Elizabeth Simkins

, Millville, NJ
Scroll down for comments...