Lake Erie Beach Glass Treasures
by Suzanne Reichert
(Cleveland,Ohio U.S.)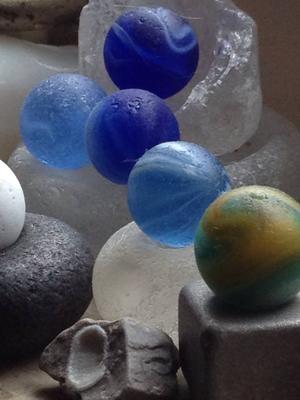 Lake Erie Marbles
~ sea glass photos submitted by Suzanne Reichert, Cleveland,Ohio U.S.
Lake Erie varied sea glass finds
These have all been found along Lake Erie.

~ sea glass photos submitted by

Suzanne Reichert,

Cleveland,Ohio U.S.
Added information:
Lake Erie is the unfortunate resting place of hundreds of shipwrecks over the years of its long history.

I was doing some research specifically about shipwrecks and the possibility of beach glass locations in the Cleveland area. I found that there are a number of known shipwreck locations and checked out the reports. However, I found that these ships were as a whole carrying grain, sand, iron ore, or timber, none of which scores a high possiblity of treasures for sea glass hunters.

On the other hand, I ran across some glass source information of a different type, bottle works.

When you are checking out areas for beach glass, it is natural to look for glass manufacturers along a coastline, since there is a certain amount of waste which is dumped during the course of manufacturing glassware. One of these industries is bottle makers or bottle works.

I ran across an interesting possible source of beach glass for those of you who live in the Southern Lake

Erie area.

Approximately due north of Sandusky (between Cleveland and Toledo) is a group of islands generally known as the Erie Islands.

One of the islands, South Bass Island, was the home of a bottlemaking company called Put-in-Bay Bottling Works. One of the original buildings of this compay is now the home of the Lake Erie Islands Historical Society Museum. I really couldn't find any more information about this company. A visit to the area's beaches may or may not turn up some interesting beach glass.


Back on the mainland at the south end of Lake Erie, there were many other bottling companies in Ohio; for example, the Sandusky Bottling Works. A little research could turn up a bottling company that was located on a still-existing shoreline near you that might produce some beach glass.

~ added by David and Lin at Odyssey Sea Glass

More about Lake Erie, Ohio Beach Glass:
***z-odyssey-C2-end-of-content-ads.shtml***
***z-odyssey-C2-end-of-content.shtml***
Join in and write your own page! It's easy to do. How? Simply click here to return to Photos General.
---