Home - Sea Glass United States - Lake Ontario Sea Glass

Lake Ontario Beach Glass

Photos, stories, and reports of Lake Ontario Beach Glass - lots of great beach glass found on the lakeshores!
On this page:
About Lake Ontario

Before getting into some contributions about the sea glass finds on New York's Lake Ontario shore front, let's take a look at some useful related information.

Location of Lake Ontario Compared to the other Great Lakes
Of the five Great Lakes of North America, Lake Ontario is the smallest. It lies, like the other Great Lakes, between the United States and Canada.

If you include the islands on the lake, there are 712 miles of shoreline (1,145 km).
Being 193 miles (311 km) long from end to end, there is enough water surface that the breezes can create some decent wave action along its shores (fetch).

You will arrive at Lake Ontario on the Canadian side from the province of Ontario, and on the USA side from New York.
The shore line on the USA side (southeast) is approximately 215 miles long.

Although it has many sandbars and protected bays, the open stretches of beach provide some good beach glass hunting.
Lake Ontario Beach Glass - 30 Years Ago

~ story submitted by Sandra
As you know the beach is actually a lake, and the sea glass I found was about 30 years ago on the USA side of Lake Ontario.

We lived off of Lake Road between Samoset and Olcott, New York, which is in Niagara County.

It was just a stone's throw to the lake and every summer my family and I would walk the shore looking for sea glass.

It was abundant at that time. Haven't been back in 30 years so don't really know about now. At that time you could find blue, pink, yellow and green.
Being small, I thought I had found treasure.

It was really beautiful.

---
---
There is more lore and legend on this Inland Sea than anyone would have ever imagined, and the author has done an extremely good job of presenting it in a way that is fun and enjoyable to read. You will learn a lot of strange and amazing things reading this book and it does not disappoint in any way. Truly enjoyable reading.
---
All the glass was frosted and they ranged in sizes from small to medium. It was very plentiful.
You could collect a jar full if you stayed out half a day.
They were well rounded with no sharp edges, but the quality was fair, because you could also see tiny scratches in the frosting.
You use to be able to get access to the shore from Olcott, but as I said, I haven't been there in years, so don't know if that is possible now.
However, some portions of the shoreline were public and some were private then. But things do change!
The only advice I would give about the tide is that you can tell ahead of time when it's coming in.
When it does, it used to cover the entire shoreline where I lived. You need to also watch out for storms when collecting glass. They approach rather fast and could possibly catch you off guard.
Trust me! The last place you want to be when a storm approaches is on the shore. The waves and dark clouds are frightening.
I didn't know you could also find this type of glass along some of the beaches in Florida.
Will have to go exploring the next time I'm out looking for shark's teeth!
~ story submitted by Sandra

---
---
Questions: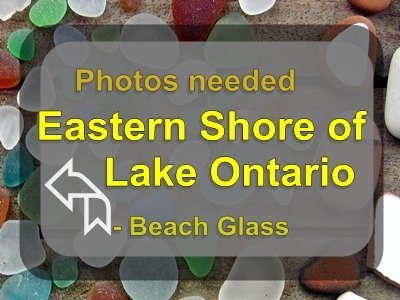 Question - Eastern Shore of Lake Ontario:
I am just below Henderson Harbor and my question is why don't we find beach glass along our sandy beaches? ~ Lorraine, Henderson Lake Ontario
Answer:
Good question, Lorraine. The answer would be based on several reasons. However, the biggest reason is that Henderson Bay just doesn't get the amount of wave action needed to tumble and round the glass.

Here is what we see when we look at a map of Henderson Harbor on Henderson Bay, Lake Ontario, New York:
Henderson Harbor is at the bottom of the bay. It is protected from the north, south, and east waves by the mainland.

On the west side, the point and headland as well as islands prevent waves from building up.

This makes for calm water, good for harbors.

To make waves big enough to tumble glass shards and turn them into beach glass, the wind needs to blow across at least 50 miles of unblocked water.

This is called "fetch," the distance wind blows across continuous water at any give spot.

For more information on "fetch" and the other ingredients need to make beach glass, check out the following page: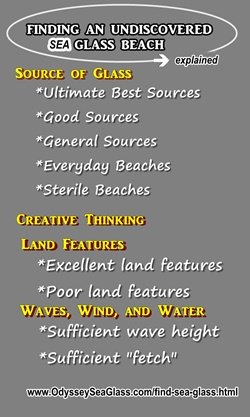 The body of water where a good beach for glass can be found must have sufficient wave height and sufficient "fetch."

Of course, for there to be beach glass, there also has to be a source of the glass. Usually along populated areas of the Great Lakes, there is glass that has been thrown away as litter or there have been shipwrecks in the past.

It may be that these sources are not present in your area.

I hope this helps. Perhaps other readers could comment on this question also.

David at OdysseySeaGlass.com
---