Large Piece of Ruby Red Beach Glass
by Rita
(Souris, PEI, Canada)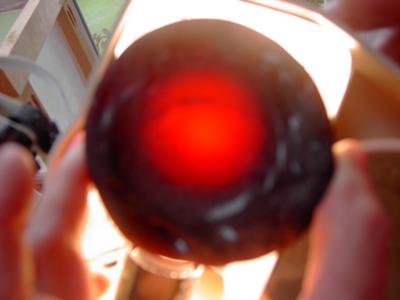 Ruby Red Sea Glass in Light
~ by by Rita (Souris, PEI, Canada)

Found this large piece of red glass on a Beach near Souris, PE, Canada.

Just thought it was another dark piece of glass until I got home and held up to the light.

Sent pictures to Richard Lamotte and his comment was:


"The thick sides and base make me think some type of Royal Ruby vase from the 1930s or 40s.
"There were a number of vases and tumblers having a similar base form.
"It really is a tough one but it clearly doesn't look like the more modern Royal Ruby Schlitz from the 50s and 60s.
"It's an amazing find to say the least."
I would be interested to hear if anyone has found similar pieces.
Rita
Read more about Souris and Prince Edward Island sea glass:


Purple Sea Glass Heart
Found this beautiful purple sea glass heart on a beach near

Souris

, Prince Edward Island Canada today....Any comments on it's rarity? Or just general comments...

Find out why
58 travelers recommend staying at the
Rodd Crowbush Golf & Beach Resort
when visiting Prince Edward Island.