Majan Beach, Muscat, Oman - Sea Glass
by Zee
(Italy)
~ sea glass report submitted by Zee in Italy

Majan Beach - Muscat, Oman
Mostly white, green and some brown. Only found 2 blue.

They tend to be flat and vary in frost level.

Sometimes chipped due to the rocky nature of the beach.

I could collect 1 per minute of all sizes and shapes.

Rate the beach
--- Good - 5 to 9 pieces of jewelry grade sea glass found per hour.
Observations
:
There is a rocky cliff that yo have to hike up to get to the secret lagoon. War trainers.

Location of Muscat, Oman: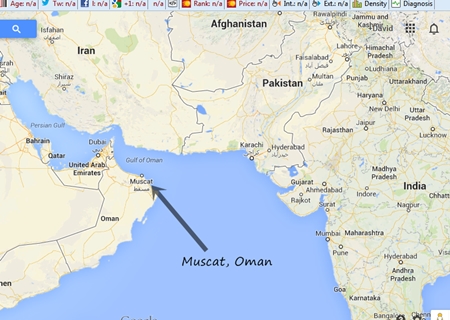 ~ sea glass report submitted by

Zee

in Italy
***z-odyssey-C2-end-of-content-ads.shtml***
***z-odyssey-C2-end-of-content.shtml***
Join in and write your own page! It's easy to do. How? Simply click here to return to Beach Report and Rating.
---