Orange Half Sphere Beach Glass?
by Sue Robinson
(Milwaukee Wi, USA)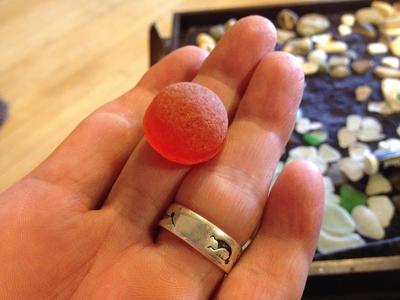 Included to indicate size.
Sue Robinson writes that she was walking the shore at Bayview Beach, Milwaukee, WI, USA, early afternoon.


She saw this bright object on the beach and at first thought it was plastic, like a top of something.
But when Sue picked it up she saw it was a thick piece of orange beach glass.
She entered a photo in the photo contest but was also wondering if anyone could give her some clue as to what this orange half-sphere beach glass might be.
Does anyone have any ideas? Thanks!
~ David and Lin