Rocky Beach, Warwick, RI, USA
by Laura
(Cranston, RI, USA)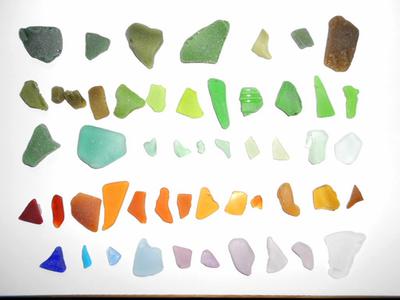 Rocky Point Sea Glass
~ Original sea glass beach report submitted by Laura in 2012- Cranston, RI, USA


November 25, 2016 update
Photo from Rocky Point Amusement Park
Photo added by Sheri, North Haven CT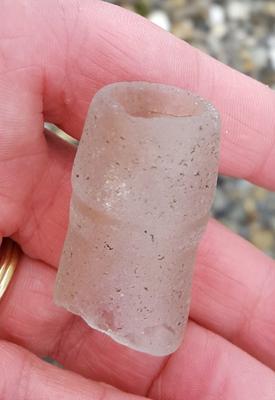 ---------------------------------------
Upated November 16, 2013
Laura writes, "Hi, could you add these 3 pictures to my profile @ Rocky Point Beach?
"I went to Narragansett town beach...a 2 mile walk R/T...and found some brown, some sea foam, a piece of ceramic, but Rocky Point.....way outranks
Narragansett
Town Beach. Big time.
"The moon tide has great results.
"Thank you David & Lin for this awesome website!"
Laura
-----------------------------
Our response:
Sure, Laura. We've added your photos at the top of the page.
Thank you for your nice comments!
David and Lin
--------------------------
October 2012 - Rocky Beach in Warwick, RI
has been re-opened as of 2012.
This area was closed since Rocky Point Park closed in 2006? Rocky Point Park was an amusement park that was right on Narragansett Bay.
My husband & I went to Scarborough Beach & found some pieces, (mostly white, green, olive& brown).
I suggested we go to
Rocky Point Park
to walk around, etc.
Instead, we found so much glass, even a cornflower & a lot of amethyst, sea foam & the usual green, brown & white. Which is fine for me.
Remember...Rocky Beach was closed to the public for many years...I hit the mother lode there! Going back tomorrow :)
~ Sea glass beach report submitted by

Laura

- Cranston, RI, USA
More info on Rock Point Amusement Park from Wikipedia:
Rocky Point Park was an
idea first thought of by Captain William Winslow in the 1840s. By 1847, he had purchased a portion of the land and began to offer amusements and serve dinner.
From the 1950s through the mid 1990s, Rocky Point Park was one of the most popular attractions in Rhode Island.
It featured rides such as the Skyliner, Corkscrew Loop Roller Coaster, Log Flume, and the Freefall (similar to the identically named ride at Six Flags Magic Mountain), which fell 13 stories at 55 mph (89 km/h).

It also featured the Shore Dinner Hall, famous for its clamcakes, steamers, lobsters, and New England Clam Chowder, which seated over 4,000 patrons at a time.

In the early 1990s, Rocky Point's financial situation became shaky.
The privately held company that owned the park began to lose money as it attempted to keep the park up to date.

Rocky Point closed in 1995, then reopened briefly in 1996 as a farewell to patrons.
Rides such as the Flume and Corkscrew were sold in an auction and are now in use at other amusement parks.
On June 25, 2011 Rocky Point was once again opened to the public
and features a new asphalt mile long walking path along the shore of Narragansett Bay although much of the area of the original amusement park itself is still fenced off and closed to the public, including the Shore Dinner Hall.
Read more about this fascinating historical spot in this book...
Sea Glass Posters by David and Lin at OdysseySeaGlass.com