Sea Glass Jaffa Beach Israel
by Gaby Mazzawi
(Tel Aviv, Israel)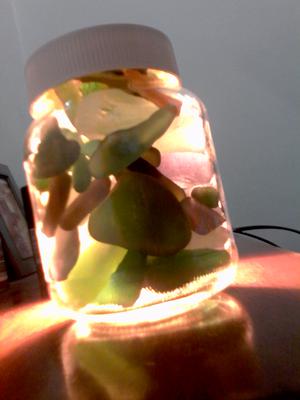 Most pieces are well frosted yet jewel-grade are few.
~ sea glass beach report submitted by Gaby Mazzawi, Tel Aviv, Israel
Jaffa Beach, Israel

January 1, 2017
Name of the Beach
Jaffa Beach, located in Jaffa - Now a suburb of Tel-Aviv, Israel
Mainly green, brown and white. Grey-purple common, maybe double-black johnny Walker bottles. Few yellows and some with wire mesh inclusion.
White glass has different hues which appear as VERY light color. This may be mauve, grey, blue and green.
Most pieces are well frosted yet jewel-grade are few. Jewel grade is common among small pieces and large ones are few. Large craft-grade pieces up to 100 grams are common but often chipped.
The Beach is full of stones. The area is near a defunct landfill. Municipal workers remove the stones on a regular basis. You may find colored and textured tile pieces which resemble old ceramic pottery.
Black shiny pebbles are maybe black glass. They have iron inclusion and can be pulled by a magnet. Possibly from an old glass factory dating to British colonialism or earlier. They have holes made by gas bubbles. I could confirm only one as black glass.
~ sea glass beach report by: Gaby Mazzawi
See Also: Tel Aviv, Israel Sea Glass