Home - Sea Glass Crafts - Sea Glass Mosaic
Sea Glass Mosaic, Sea Glass Tiles Crafts Project
Projects and Examples
of Do It Yourself projects using your own sea glass or beach glass.

Craft tiles done in a mosaic of sea glass, alone or in combination with seashells and beach rocks or other finds, can create a beach atmosphere for your beach decor.
Perhaps you have thought of a mosaic tile and sea glass table top
Or maybe a sea glass backsplash for your kitchen or bathroom counter.


Or sea glass wall tiles.
Here we will discuss a mosaic project using your sea or beach glass.

There are many possibilities for sea glass in mosaics.
---
Mosaic or Tile Project

Using craft-grade (mosaic) or jewelry-grade sea glass in mosaics is a favorite of many sea glass collectors.

By following instructions for setting small tiles, you could create your own special sea glass tile designs for a bathroom or kitchen splash guards or counter tops; mosaic flower pots, and more.
Why not use your beach glass to make a Mosaic Coffee Table or Patio Table? Here are several ways to do this.
One way to do a mosaic on a table is what you might call the standard mosaic, using grout and laying the sea glass as you would tile.
For crafting technique, we recommend Bonnie Fitzgerald's 5-star book "Guide to Mosaic Techniques: The Go-To Source for In-Depth Instructions and Creative Design Ideas."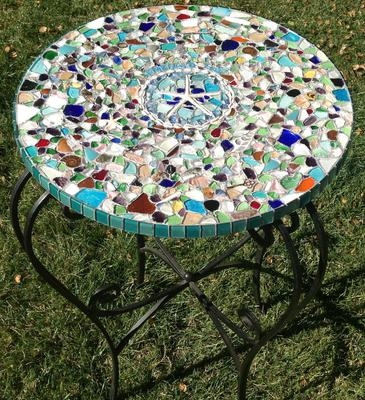 This excellent example of a round patio table was submitted by one of our viewers. See the original report...

At a crafts or hardware store you can buy a nice table ready to accept the grout.
Find a table that has a prepared surface and an edge or lip to match the height of the finished surface.
On the other hand, you might want to adapt an existing table yourself. Here is a DIY sea glass mosaic project submitted by one of our viewers.
As shown in the photo, the edge of the table has been built up to match the height of the finished surface.

Fluid Arrangement Mosaic Table

An exciting way to make an "imitation mosaic" creative sea glass table top that allows you to change and rearrange the patterns and pieces is by doing the following:

1. First find a used coffee table at a garage sale or thrift shop.

Look for one with a clear glass top. The idea is to arrange your glass beneath the glass top (you could add sand, sea shells, driftwood, etc).

2. There are two ways to work with this table to create a mosaic with your beach finds. This will depend to a certain extent on how the table is constructed.

If the glass top has a solid top/shelf under it, you could add spacers between that solid piece and the glass top to raise the glass sufficiently (about 1 to 1-1/2 inches if you are just using sea glass) to clear your beach glass mosaic materials.

If that will not work with your particular coffee table - for example, if the glass top has no solid base below it - you can add brackets to the insides of the legs to support a piece of plywood cut to size with enough room below the glass top to accommodate your sea glass mosaic materials.

3. Arrange your mosaic materials as you would like. The advantage to this type of a sea glass idea is that you can rearrange the design if you wish to at any time!


Crafts To Make And Sell.

---
---
---

---
---
---

---