Sea Glass San Telmo, Canary Islands, Spain
by Adele Price
(Norfolk, UK)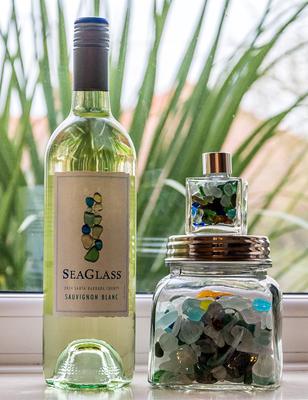 Sea Glass San Telmo, Canary Islands, Spain
Sea Glass Report - San Telmo, Puerto de la Cruz, Tenerife North - Canary Islands, Spain
We found sea glass in a small rocky cove called San Telmo which is in Puerto de la Cruz on Tenerife North, Canary Islands (Spain).
It is just in front of shops and 50 yards or so from where the little train goes to Loro Parque.
This little beach cove was littered with small but perfectly formed pieces of sea glass and occasionally the tide would throw up some bigger pieces.
The glass was mostly green, white and brown but I did find a few blue sea glass pieces (although some of them were not really properly cooked), a light purple, a yellow and also a marble.
My first picture shows the pieces in two jars - the small bottle was an oil diffuser so the small pieces are now quite shiny!
The bottle of wine I found in Marks and Spencer's here in the UK when I got back!
Second picture is my little man who always comes on holiday and he is holding a bigger piece I found in the cove at San Telmo.
Third picture is San Telmo cove at high tide.