Tucuchi Beach, Okinawa, Japan
by Larry T.
(South Korea)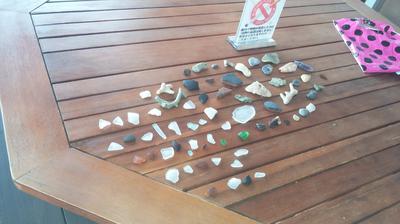 My find for the day. Not bad for about 45 minutes on the beach!
Name of the Beach:
Tocuchi Beach
City nearest to that beach:
Yomitan
The state, country, or island where the beach is:
Okinawa Prefecture, Okinawa Island, Japan
Describe your find:
I went there on a rainy day, which made It a bit difficult to find anything, but I found a few nice pieces.
I would advise taking a car. I took a bus and it was a bit of a hike from the bus stop to the beach.
I wish I had hailed a taxi to take me there from the bus stop. It would have saved a lot time and hassle. However the walk wasn't too bad.
On the way back, I did take a taxi back to the bus stop. That was much nicer.