Unidentified Pieces - Grant Park Beach, Lake Michigan
by Maggie Rizor
(Delano, Minnesota, United States of America)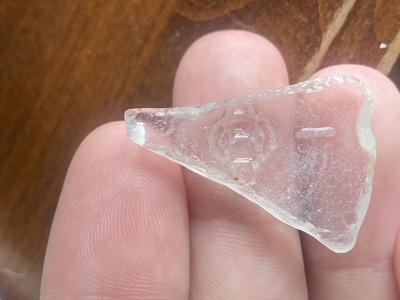 I have a few pieces I'm hoping to identify!


The first is clear glass, with what appears to have a face on it (perhaps a monkey face?).
The second appears to be some sort of pottery. It has some cross hatches on it, along with some teal coloring.
The third is cylindrical. It almost seems as thought it may have been a bead. I can see some sparkly pieces, but only on the ends. It's almost as though sand filled in the hole down the center.
The fourth appears to be a CO2 cartridge. Any thoughts on what this may have been used for?