Vancouver Canada Sea Glass Reports
by Sarah, Alison, and more
(Vancouver, British Columbia, Canada, North America)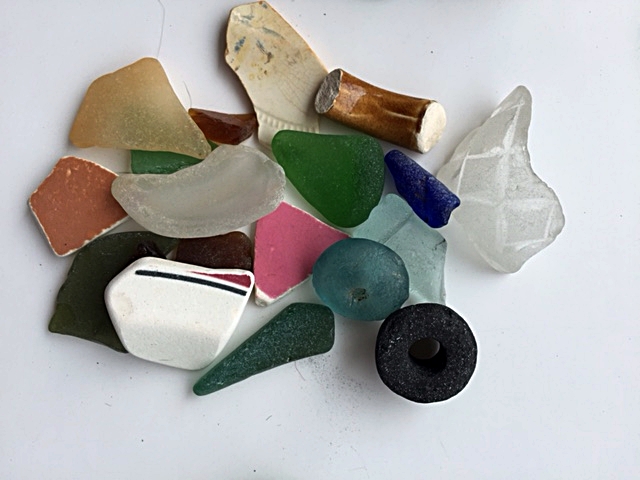 Vancouver Collection "West Coast Treasures"
Vancouver Area - British Columbia, Canada
May 2017
Hi Lynn and David,
I love hearing from you in the
newsletter
!
I'm sending a collection from the local beaches around Vancouver titled "West Coast Treasures."
I took this photograph when I got home on my iPhone.
~submitted by

Alison Shepherd,

Vancouver, British Columbia, Canada

Ken Ford boat ramp, Campbell River, Vancouver Island, BC,Canada
January 10, 2016
We walk this beach almost daily and usually find a hand full of beachglass.
It is often white, brown or green, although we sometimes find blue(anyone who finds blue is champion of the week).
It ranges in size from a shard to fingernail sized although largerwhite or green pieces are sometimes found.
They are mostly irregular rectangle-ish shapes with rounded edges.
This is a public beach with a working boat ramp. It can be quite busyin good weather, especially in summer.
It is along the walking trail and dogs are allowed, as well as beachfires.
By Sarah M,
Campbell River, BC, Canada
Scroll down for comments...