Vienna, VA -- Lucky Sea Glass
by Jean
(Virginia)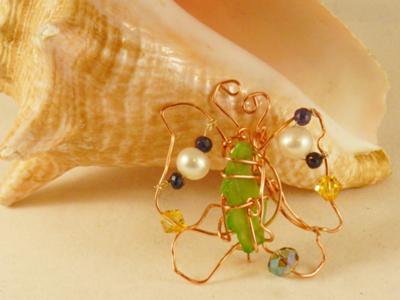 Butterfly brooch
Vienna, Virginia - United States

Lucky Sea Glass™ Jewelry is personally designed and created by me, Jean Forman, with the rare, gem quality sea glass I have collected around the world.
I often add semiprecious and precious gems such as rubies, sapphires, and freshwater pearls to my designs, and also Swarovski crystals.
The sea glass is wire wrapped with sterling silver or gold filled wire or copper.
Most items include a sterling silver or gold plated neckchain or a handmade necklace.


Also, I can create unique custom pieces and I will work with you to design a special sea glass design using your sea glass or mine.
Examples of some already sold custom pieces are on my website.
Lucky Sea Glass™ offers a number of wire crocheted designs, some of which include sea glass.
I learned about this technique in Greece, and love the unique, airy look of the crocheted silver or gold.
---
About Lucky Sea Glass
™
Lucky Sea Glass™ is well regarded in the sea glass community.
I currently have a website http://www.luckyseaglass.com and a blog http://luckyseaglass.blogspot.com where you can obtain more information about sea glass and about my designs.
---
Locations
Lucky Sea Glass™ jewelry is sold in shops in
Virginia and Florida, as well as online through my website.
If you like my facebook page, you will receive a discount on your purchase. (http://www.facebook.com/LuckySeaGlass
I guarantee all my jewelry designs, and if you ever need a repair or replacement, I will provide you quick service for a very reasonable price.
You may purchase from the website using the secure site, PayPal, or a credit card of your choice.
Free shipping for items $100 or more in the continental U.S.
Items are shipped insured, certified delivery, First Class in secure packaging.
---
---
PLEASE NOTE:

The sea glass business listing on this page is not part of OdysseySeaGlass.com. We provide this listing as a free service to other sea glass related businesses. So, if you need information about the business on this page, you will have to contact them directly. Their contact information appears below.



Thanks!
---
---
Background
I am a mostly self-trained jewelry artist, however, I have studied art, painting, needlework, macrame, and other crafts over the years.
After almost thirty years as a school psychologist, I pursued my love of sea glass, travel, and jewelry to create Lucky Sea Glass™ It has been quite a lucky experience for me, as I have enjoyed meeting many fellow artists and collectors, traveling, and creating beautiful, unique designs for others to enjoy.
Some of my customers have shared with me their own good luck stories, which you can read on the website. I hope a piece of Lucky Sea Glass™ will bring good luck to you, too!
Contact Info
Jean Forman
Lucky Sea Glass™
Vienna, VA 22182
Email: contact (at) luckyseaglass.com