2015 Feb 16 Huanchaco Peru Best Colors of Sea Glass
by David and Lin Schneider
(Huanchaco Beach, Peru, South America)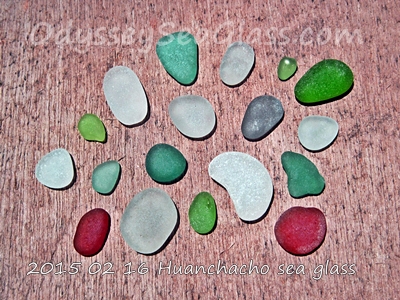 Best of the catch
~ sea glass photos submitted by David and Lin Schneider in Huanchaco Beach, Peru
Sea Glass Catch at Huanchaco Beach, Peru, SA

Lin and David here at Odyssey Sea Glass ...
.Lin and I went to the beach for about 1 hour and 45 minutes today.

It is amazing how the beach can change. A few days ago, it was sandy and we got skunked - zero sea glass, a rare occasion.

Today, there was a good range of pebbles between high and low tide marks. We were happy to see that, knowing that the chances of finding sea glass are much better than on a day when the sand is in.

The pebble layers and strips alternated with sandy spots, like this stretch for some reason full of sea urchins.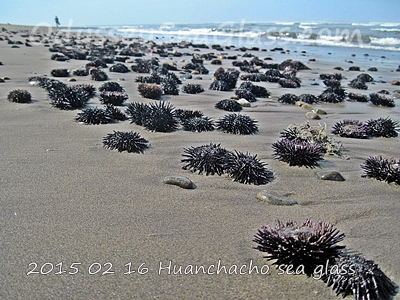 Today, we did find some nice sea glass.

Some days, we find a lot more. Or some days we seem to find different colors.

Today, for example, we didn't find a true blue. But we did find some other great colors including a plum-gray.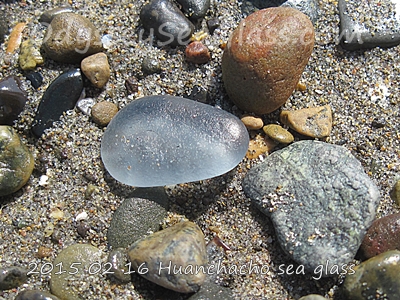 The photo doesn't quite show the more grayish color.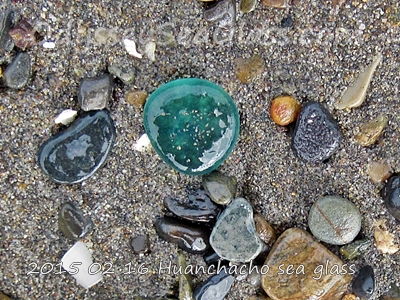 This turned out to be a pale teal.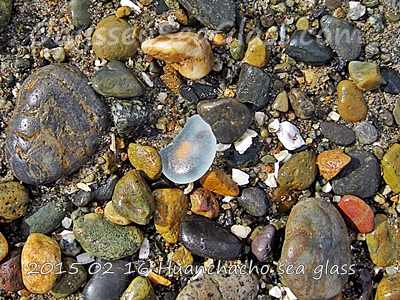 Just a hint of blue to this one
~ sea glass photos submitted by

David and Lin Schneider

in Huanchaco Beach, Peru
***z-odyssey-C2-end-of-content-ads.shtml***
***z-odyssey-C2-end-of-content.shtml***
Join in and write your own page! It's easy to do. How? Simply click here to return to Photos Catch of the Day.
---