Glass shard identification help?
by Lauren S
(Los Angeles, CA)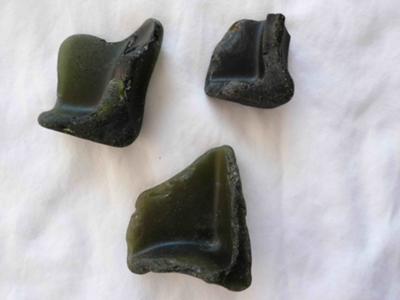 All three beach glass pieces
~ submitted by Lauren S in Los Angeles, California

Hello,

These pieces were found on a small island off the coast of Panama and I'm hoping to learn what they may be from.

I have 3 of these and I'm not sure if they once made up 1 bottle or came from 3 different bottles.

They appear to have a square shape and these are corners.

Piece one has the letters C and S.




Piece two has the letter C on it and piece three has an M (or perhaps a W?)
Thank you!!
by Lauren S




Questions about Sea Glass
Questions about sea glass collecting, identification, beaches, crafts, colors, value... and just about everything - ask here!



Doll Body Beach Glass
~ submitted by Joe I found this at Castle Island in Boston MA. We think its a porcelain doll, but we need more and ideas please help. Odyssey Sea Glass